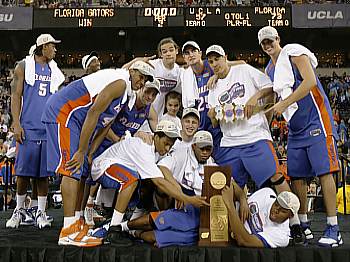 Money is everywhere in college sports.  It was recently reported that the Big 12 has spent nearly $1.6 billion dollars on facility projects since its formation in 1996.  Below lists the top 5 universities by operating profit in 2005 (since total 2006 dollars have yet to be reported).
 
University of Georgia  $23.9 million
University of Michigan  $17.1 million
University of Wisconsin $15.8 million
University of Texas $15.3 million
University of Alabama $12.5 million
 
The University of Texas was also the leader in team merchandise through licensing revenue amassing over $8.2 million in royalties from 2005-2006.  These record sales knocked UNC-Chapel Hill out of the #1 spot for the first time in 5 years and beat the record set by the "Fab Five" era at the University of Michigan in 1993-94.  According to ESPN, "UT's standard royalty rate is 8 percent of each licensed item sold and 12 percent on national championship items."  By winning the College World Series last year, defeating USC for the BCS Championship and a quality showing in the NCAA Basketball Tournament allowed Texas to dominate this year.
 
Those interested in the business of sports need to keep an open mind and perhaps consider non-professional sports as a venue for employment. Those interested in marketing and sponsorship sales might be able to learn the most through a college athletic department.