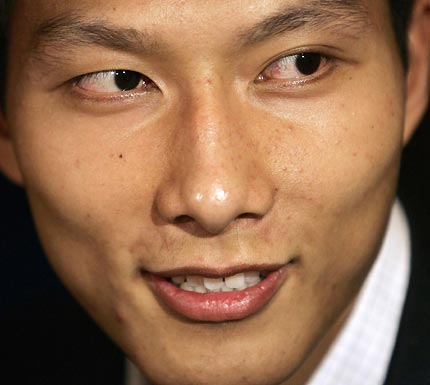 "He's young, good looking, stays out of trouble and has a sizable following." Name that player. Jacoby Ellsbury? Adrian Peterson? Actually, the statement was made by Grace Chen of William Morris Agency (WMA) and he was referring to his client, Yi Jianlian [Not just a face in the crowd].
WMA is very convinced that Yi will not only become a larger name in China, but that he will become bigger than Yao in the United States. To prove this, the company has put together a team of ten employees to focus on Yi's business activities.
So it looks like WMA has secured a spot on Yi's roster of agents. WMA will control all of Yi's "off the court" deals and Dan Fegen will handle his contractual negotiations with NBA teams. The interesting point is that WMA does not seem concerned in the slightest about Yi playing in Milwaukee (instead of a larger American market). Contrast that to how Dan Fegen felt right after his client was picked by the Bucks [What Would Ari Do?].
I think that Fegan made a very smart move to involve WMA in Yi's representation team. By hiring an external marketing team, Fegan will be able to correct his early mistakes when he distanced his client from the city of Milwaukee and allow his client to be aligned with a huge, experienced marketing agency in WMA. This should be a lesson to all agents. If you cannot handle a certain aspect of the business on your own, look outward and seek other entities to aid your clients' success.
-Darren Heitner