Tom Brady: Stetson Man
They won't be squaring off Sunday like many expected, but the question still remains: who is the better quarterback, Tom Brady or Peyton Manning? From a pure football perspective, it's a great question, with no objective, "right" answer. From an endorsement standpoint, however, The Boston Globe's Keith Reed reported last year that "Manning is by far a more prolific pitchman than local hero Brady." Reed wrote, however, that Brady, who as of 2007 pulled around $9 million from endorsements compared to Manning's $11.5 million according to Sports Illustrated, "may be a lot more efficient [endorser]."
Efficient?
This past season Manning, who is represented by IMG's Alan Zucker, has been featured in commercials for Sony high-definition TVs, Sprint cellphones, DirecTV's NFL Sunday Ticket package, MasterCard credit cards, Reebok apparel, Gatorade, and Canton, OH-based Tweeter Home Entertainment Group Inc.
But Reed quoted Jon Hickey, senior vice president of sports entertainment and marketing for Boston advertising agency Mullen, who opines that one reason Manning does more ads is that Brady, who is represented by Don Yee, turns down most offers. This rings true. Nearly three years ago, for example, Darren Rovell wrote for ESPN.com that Brady's representatives [Yee and partner Steve Dubin] "have arguably turned down more potential seven-figure deals than anyone short of the Goodwin brothers, whose client is Cleveland Cavaliers phenom LeBron James."
For whatever reason, Brady has been notoriously selective in whom he endorses, so much so that certain companies have allegedly turned down the mere possibility of working with him. Moreover, Rovell stated that "when Brady does sign, it's not just a 'read the lines into the camera' deal, either. Every endorsement contract Brady signs includes a clause that stipulates he will have some meeting time with the company's chief executive."
"The lucky ones," according to Rovell, "have been Nike, Sirius satellite radio, Hershey's and The Gap," as well as Visa credit cards and Movado watches. And while Brady used to also be contractually obligated to Dunkin' Donuts and Cadillac, he never re-signed, and even sued the latter for using his photo in advertising after his contract with them had expired.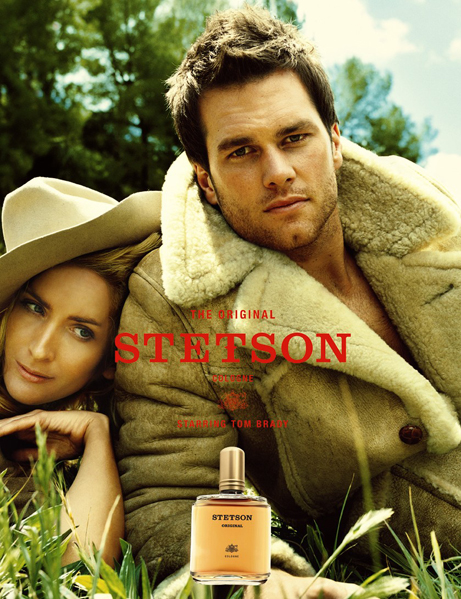 "Of course you want to be selective about things," argued Brady, on the subject of his pickiness. "You want to choose things that fit your personality, things that you want your teammates to see and hopefully they don't kid you too bad."
Hmmm, things like playing cowboy for Stetson Cologne, Brady's most recent endorsement signing?
"I am excited to be the Stetson man," Brady said. "Stetson do a great job of reflecting the guy who's unafraid to tackle the unknown, get involved and be his own person—that's how I live my life, and I think that's how men who wear Stetson approach theirs."
I think Gisele must just like the scent.