When it comes down to it, there is no sport that I enjoy or know more about than baseball. A large reason for that is that I grew up with a father who was and continues to be a passionate New York Yankees fan (you have to remember that the Florida Marlins were not around in my early childhood). I have played organized baseball since I was five years old and continue be a student of the game. Thus, I was very happy when Trina Perrineau over at Rodale Books sent me a book called Change Up: An Oral History of 8 Key Events That Shaped Baseball, without any prior warning that the book was on its way.
The press sheet got me excited to crack the book open. Oral accounts of eight pivotal developments in the game of baseball told through stars like A-Rod, Jeter, Ichiro, Ripkin, etc. But honestly, it took me a while of reading before I actually started enjoying the book. In fact, there were times in the first third of the book where I almost put it aside and said, the hell with it. In the end, I am glad that I stuck it out, because some of the later chapters have actually made me a bigger fan of baseball than prior to reading Change Up. Without a doubt, I am more knowledgeable about the sport I love.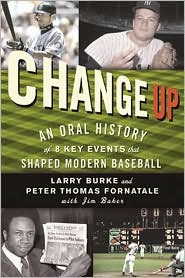 I think that a major hurdle that I had to get past was the unorthodox style of authors Larry Burke and Peter Thomas Fornatale. Before opening Change Up, I had never read a book that was 95% narrated by other people. The stories do a little jumping all over the place, which originally made it a little difficult for me to follow. Once I got the hang of it, I was conquering the book at a faster pace and enjoying the stories much more.
That being said, I did not get interested in Change Up, until Chapter 4, which was probably my favorite chapter of the book. In fact, if you purchase Change Up and run into the same issues that I initially did, do not allow yourself to give up and put the book aside. Instead, make sure to read Chapter 4, which is titled, The Birth of the Players' Union. As an agent or future agent, it is important for you to understand how and why the MLBPA was created and who was instrumental in its creation. Even if you have no plans of becoming an MLBPA certified agent, the chapter gives great insight into what it takes for a successful players' union to survive in any sport or industry.
Maybe you will be more interested in the 1962 Mets (I was not alive at the time) and you quite possibly will find the detailed look into Ball Four enthralling. If so, you should enjoy Change Up from start to finish. If not, I believe that you will enjoy the following chapters on the MLBPA, the DH, Frank Robinson, Cal Ripkin Jr., and finally, Ichiro and his Japanese friends going against all odds and finding success in American baseball.