This past week, we have heard a frenzy of rumors and questions surrounding the return of "retired" Brett Favre to professional football.  Favre recently told the NFL to hold off on marketing anything products with #4 and the word "retired". Mid-Friday, Favre and his agent, Bus Cook, sent a letter to the Packers asking for Favre to be unconditionally released from his contract. Some say Cook was pushing Favre toward this decision; a decision that could only mean that the Packers are not interested in Favre's return to Green bay.
With the Packers out of the running, should Favre really come back?  Or is this just an old man who wants to keep playing the game he loves?  As Favre was contemplating coming out of retirement, it made me think of other great athletes who came back after calling it quits.
Mario Lemieux, Sugar Ray, Ryne Sandberg, Floyd Mayweather, Zinedine Zidane, Lance Armstrong, Michael Jordan…did it twice.  Why do great athletes retire only to shortly return to the games they retired from?  Do they all have that "itch" to return as Brett Favre recently stated?  Why do they even retire in the first place?
Although the reasons vary for each individual player as to why they retired, the one thing they all have in common is that they were still key contributors to whatever team they rejoined.  After retiring to play baseball,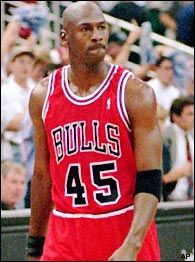 Michael Jordan came back to lead the Bulls to win several more championships before he retired again.  His second comeback to Washington was not as successful but he still averaged over 25 ppg and helped build the Wizards franchise.  Zidane, retired from International soccer in 2004, only to come back three years later to help the French barely make the World Cup in 2008.  "Zizou" went on to lead the French to the World Cup finals before his famous head butt.  We all know about Lance Armstrong.  One of the great stories in all of sports, Lance came out of retirement after successful cancer treatment to win seven yellow jerseys in the Tour De France. Many other athletes have come back to still be successful; however, others (like Ryne Sandberg) have returned to show their age and struggle.
After an amazing 13-3 season allowing Green Bay to host the NFC championship game last season, some questioned why Brett retired. It seemed as if the Packers pushed him out.  Now, after preparing UC-Berkeley product Aaron Rogers to start the 2008 campaign, Brett wants back in.  The Packers seem to be moving on without Favre, but would they release him and watch him lead another team to a possible championship?  Only time will tell, and the sooner the better for Brett Favre's career and the Packers organization.
Let me know what you think.  Should Favre return to the NFL with another team? Will the Packers release him? Does he have the arm strength to play another year?