With the today's Major League baseball trade deadline looming, Barry Bonds is still a free agent.  Yes, Barry Bonds, possibly the greatest player of our generation, if not the greatest player in the history of Major League Baseball, cannot find work.  Bonds led the major leagues last year with a .480 O.B.P., a 1.045 O.P.S. and 132 walks.  He hit 28 homeruns, scored 75 runs and batted .276 in 2007, good enough to earn him an All-Star berth for the 14th time.  Only three Major League Baseball players currently have an O.P.S. higher than Bonds' 2007 mark (Albert Pujols, Lance Berkman and Chipper Jones).  No player in Major League Baseball has an O.B.P. as high as Bonds' 2007 total.  Yet Bonds cannot find work.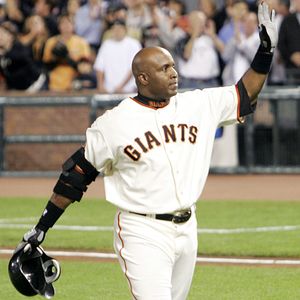 Is money the issue?  Bonds has expressed that he will play for a pro-rated share of the major league-minimum salary of $395,00 with the funds donated to charity.  Still, no team has expressed an interest in Bonds.  Are steroids the issue?  While Bonds is the poster boy of the steroid era, Major League Baseball is currently littered with steroid users.  Players such as Jason Giambi and Andy Pettitte have admitted using steroids and HGH, yet this has not prevented them from earning millions of dollars on major league rosters.  The same can be said about other players named on the Mitchell Report such as Gary Sheffield, Miguel Tejada and Rick Ankiel.  Is Bonds' character the issue?  I doubt that as well.  Manny Ramirez in recent weeks shoved the Red Sox traveling secretary to the ground, slapped a teammate in the dugout, and sat out an important game against the New York Yankees for no apparent reasons.  Yet these character flaws will not prevent Ramirez from signing a multimillion dollar deal in the offseason.  Philadelphia Phillies pitcher Brett Myers was arrested and charged with assault after punching his wife Kim Myers after an argument in 2006.  Yet Myers was welcomed back to the Phillies.
Bonds, now 45 years old, is reportedly in great shape.  Bonds' agent, Jeff Borris, said Bonds told him:
"He would be ready in a very short period of time. He thinks he can be ready 10 days, two weeks. And with the first trading deadline coming up, I can't understand why my phone is not ringing off the hook.  No one is even asking about him.  I talk to the clubs every day for a variety of reasons and his name is never brought up anymore. I'm more convinced now than ever that he won't be in a major league uniform in 2008, and I think that's a pathetic way for him to go out. I think he's deserving of better. He gave his heart and soul to this game."
Union head Donald Fehr recently examined possible collusion against Bonds, but has yet to file a formal grievance.  Borris hinted at the possibility of collusion:
"If everything were fair and equal in the world, Barry should get a fair market value offer," he said. "But since everything is not fair and equal, I decided to offer him for the minimum. I thought for sure there would be a taker, and there were none. If that doesn't raise the level of suspicion, I don't know what does."
Major League Baseball is filled with players named on the Mitchell Report; players with poor character and players with criminal records.  These players continue to sign million dollar contracts.  Yet Barry Bonds, possibly the greatest player in our generation, if not in all of Major League Baseball history, the player who led baseball in O.B.P. in 2007, remains unsigned.  Any team can have Bonds' services for the small price of $395,000.  Yet not a single team has shown any interest at all in Bonds.  Smells like collusion to me.  Stay tuned to see how this story plays out.