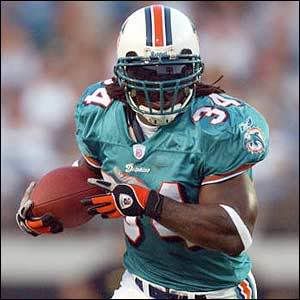 Ricky Williams has had anything but a smooth career, but certainly an impressive one.  While his first 3 seasons with the Saints were nothing to write home about, he soon came into his own.  In his forth season, first with the Dolphins, he led the NFL in rushing with 1,853 yards.
Before the start of the 2004 season everything fell apart.  Williams failed his third drug test, and he then decided to retire from football.  During that season that he had off, he studied at the California College of Ayurveda.
Things then got a little out of control in the Williams situation.  He came back to football for the 2005 season, only to fail a fourth drug test and have to sit out the whole 2006 season.  From there he went up to Canada to play for the Toronto Argonauts of the CFL.  Ricky returned to the Dolphins in week 12 of the 2007 season only to sustain an injury that would sideline him for the rest of that year.
But this season, Ricky is sitting atop the Miami Dolphins depth chart and will be the opening day starter for the Fins.  While most people may think of Ricky as some pothead running back, he's nothing short of impressive.  He has basically missed three consecutive seasons and still has the ability to start for an NFL team.  Let's not forget that Bill Parcels is also very impressed with his running back.  If Williams didn't miss those seasons he would be regarded as one of the top 5 backs in the league…Definitely a first round fantasy choice.
The Ricky Williams situation speaks volumes of the type of agent and person Leigh Steinberg is.  Through the trials and tribulations, Steinberg remained by Ricky's side and didn't give up on him.  He's a huge reason why Williams is even in the NFL.  Let's not forget to mention that he just negotiated a new incentive laden one year extension.