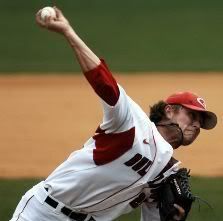 Only three players in the first round did not sign with the teams that selected them in the 2008 MLB Amateur Draft.  The previous statement may not hold true if it is found that Pedro Alvarez and Eric Hosmer were signed after the deadline.  That being said, of the three players who went unsigned, Aaron Crow (picked by the Nationals) and Gerrit Cole (picked by the Yankees) will be going to school.  For Crow, he can be selected again next year.  Cole will be at UCLA for three years before being picked again.  The remaining unsigned player is Joshua Fields, who was selected by the Mariners with the 20th pick overall.
Joshua had a very impressive 2008 season with the University of Georgia Bulldogs.  He was named the 2008 Stopper of the Year by the National Collegiate Baseball Writers Association and 1st Team All-American by Collegiate Baseball/Louisville Slugger.  He received those awards in his Senior season, which is somewhat of an oddity in a world where the best players almost always leave by their Junior year.  The fact that Joshua has completed his Senior year is significant, because it means that the Mariners, unlike the Nationals and Yankees, still have the ability to sign their first round pick after the August 15th deadline.  Fields does not have a school to go back to.
An interesting question was posed on BaseballAmerica's Ask BA segment.  It basically asked what kind of the Mariners would have to pay over slot value for Fields.  This was Jim Callis' answer:
The Fields negotiations are currently at a stalemate. The Mariners are holding firm on a slot offer of $1.5 million, while the Scott Boras Corporation maintains that teams were told all along that it would take $2 million to sign the reliever.

What's interesting is that both sides have leverage. From Seattle's standpoint, as Phil suggests, it can get a player of similar value with a compensation choice next year. While Fields is close to big league ready, he's not an elite talent who plummeted to No. 20 overall because of signability.

Fields, however, could help his case by pitching well in an independent league next spring and then playing the Mariners against the possibility of losing him when he re-enters the draft. Scherzer did that, and the Diamondbacks gave him $4.3 million in guaranteed money and another $1.5 million in easily reachable incentives when Boras took the club right up to the deadline to sign him before the 2007 draft.

The $500,000 difference between the two sides is paltry in the grand scheme of things, but neither seems willing to compromise.
I am not surprised.