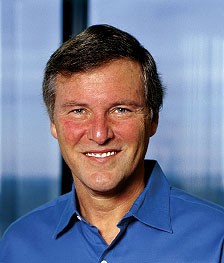 It seems as though prominent sports agent Leigh Steinberg is always in the news. Unfortunately, lately it hasn't been because he signed another top rated quarterback.
With his admitted battle with alcoholism, Steinberg recently had another run-in with the law. This time, he was arrested on suspicion of being drunk in public in Newport Beach, CA where he lives.
Police said Friday that Steinberg, 59, was taken into custody about 8 p.m. on Oct. 22 after they got a report about a man "screaming and attempting to climb a hill" above the Newport Auto Center, Lt. Bill Hartford said.

Officers detected a "strong odor" of alcohol and Steinberg's speech was slurred, although no alcoholic beverages were found, Hartford said. "It appeared that he couldn't care for himself and others" and Steinberg was taken to the city jail, where he was booked for investigation of public intoxication and released on his own recognizance pending a Dec. 8 court hearing, Hartford said.

A telephone message left for Steinberg was not immediately returned Friday.

Steinberg signed a statement that said police planned to seek criminal charges and promising to appear in court, Hartford said.

But there was no record of Steinberg's latest arrest in the district attorney's computer, so it was not immediately possible to determine whether he had been charged, officials in the DA's office said.

The arrest was first reported Friday in The Orange County Register.
Although he hasn't been officially charged as of yet, it is safe to say that Steinberg has been making news for all the wrong reasons. At the pinnacle of his career, he represented many of the top QB's in the NFL, including Troy Aikman, Steve Young, and Drew Bledsoe. His success as a top agent helped inspire "Jerry Macguire," and it is no secret that at one time, his client list was one of the most impressive out there.
Because of the high profile clients he has represented over the years, Steinberg has become a celebrity in his own right. With that, comes higher expectations from the sports media and public. You usually don't hear about other agents' legal infractions, unless they are egregious actions related to representing athletes. While it is rare that the media actually follows the personal life of an agent, in Steiberg's case, it is just a fact of life for him now. He earned it.
With his string of legal incidents over the past 12 years (In both April 2007 and 1997, Steinberg was arrested for investigation of drunken driving after he hit parked cars), it is both sad and disappointing to hear about such an admired sports agent tarnishing his legacy.
It doesn't matter how many multi-million dollar contracts you have negotiated, if people remember you as "the sports agent who got drunk and hit parked cars." I'm not trying to be facetious, as I realize this is a serious issue. I hope that Steinberg seeks out intervention before it's too late.