Cade Cunningham, the consensus first-overall pick in the coming July 2021 NBA Draft, has signed with Excel Sports Management for representation. Agents Jeff Schwartz and James Dunleavy will represent the 6'8" point forward out of Oklahoma State.
Cunningham arguably exceeded gaudy expectations this past college basketball season as he was simply brilliant in every aspect of the game. Per 75 possessions, he put up 23.4 points, 4.1 assists, 7.2 rebounds and shot 46% 2-PT, 40% 3-PT, and 85% FT. There aren't any glaring holes in his game and whoever wins the lottery shouldn't overthink this.
Cade's Cowboys fell to the Beavers of Oregon State in the second round of the NCAA Tournament, but the freshman played very well. He scored 24 points for Oklahoma State (21-9), but the fourth-seeded Cowboys rushed shots down the stretch and at times failed to get him the ball. Now, Cunningham is prepared to move on to the NBA as he signs with Excel Sports Management.
When asked about his college experience, Cunningham said, "It's been special." "I think that's the best way to describe it. I think the biggest thing is I surrounded myself around great people, more than anything that's the thing I'm most proud of. That's the thing, I feel like I've grown up the most by being around good people who pushed me to be somebody good on the court and off the court. I'm going to miss it, for sure." Many believe Cunningham joined Oklahoma State in order to pair with his brother, who was on the coaching staff. Recently, Cannen Cunningham and the Cowboys have mutually agreed to part ways. Cannen is going to help manage his brother's NBA career.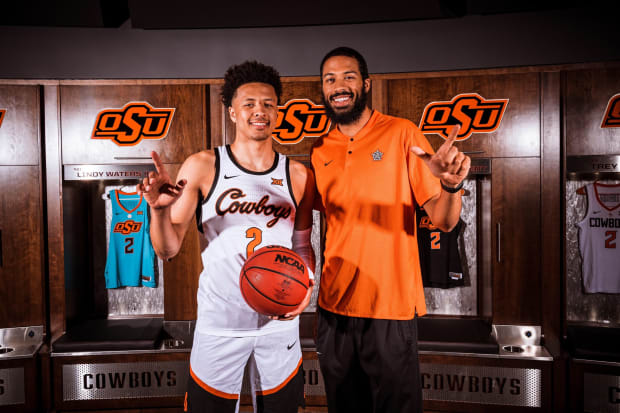 The next step for Cade may be a sneaker deal, as apparel juggernauts will have to enter a bidding war for the ages. Excel has nearly $4 billion worth of current contracts with athletes and will be able to help Cunningham in such negotiations.
Not a bad stretch for Excel Sports Management, as they also represent another future first-overall pick, Trevor Lawrence, for marketing. Other Excel Basketball clients include CJ McCollum, Nikola Jokic, Tyler Herro, and Kemba Walker.