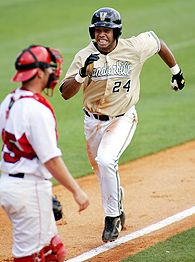 It is now August 14th.  The deadline to sign a 2008 MLB draft pick is tomorrow and the Pittsburg Pirates million-dollar prospect, Pedro Alvarez, has still not signed an official contract with the Pirates.  Scott Boras's client was the second overall pick in this year's MLB Draft.  If Pittsburgh does not work out a deal with Pedro, he will go back into the draft in the future.  Alvarez is looking at earning around a $7 million dollar signing bonus that the "cheap" Pirates may not offer.  With Boras behind the negotiations, it is unlikely that the Pirates will listen to his high demands.
Alvarez is compared to Manny Ramirez and could certainly be worth that much over time. Other equivalent draft picks such as 2008 1st overall pick Tim Beckham, signed with Tampa Bay for a $6.15 million signing bonus.  The Pirates are not likely to go much higher than that.
After trading Jason Bay, Damaso Marte, Xavier Nady and others, it looks like the past ten years have been rebuilding years for the Pirates.  They have consistently been shedding good players and clearing salary cap space.  Pittsburgh has a young lineup, especially after gaining Neil Walker, and Adam LaRoche. They claim to be building for the future.  Wouldn't signing the second pick of the draft, Alvarez, be a great way to build for the future?  Alvarez has made all the right decisions and is a first class talent.  If the Pirates let this guy slip through their fingers, I don't know who they will ever spend money on.