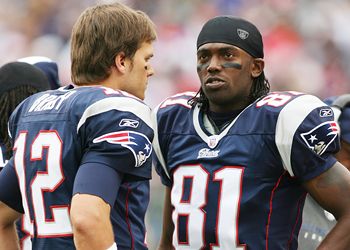 With the off-season in full effect, it is time to discuss those big-name superstars who are about to leave town to get the big bucks elsewhere. One big time player who won't be going anywhere is Randy Moss. This past season, we saw the much-maligned superstar turn into a team player and a Tom Brady favorite. Once again, he established himself as the best receiver in the game, broke the record for most touchdown receptions in a season, and place 2nd in the Offensive Player of the Year voting. This is a Randy Moss that people never thought they would see. World's leader and team player were nowhere near the words used to describe Moss in the past. A lot of what we see today from Moss has to be attributed to the success of the team and coaches of the New England Patriots. I would be very surprised to see him jolt New England to receive that huge payday he would receive elsewhere. You can tell by his interviews that he truly loves where he is and the players who are surrounding him. He no longer has to be that player in the spotlight.
There comes a point in every athlete's career where winning becomes their primary concern and the athlete will decide against taking the most money. While many say it's not about the money, few actually mean it. But when we see Moss take less money to stay in New England, it will be quite evident that Moss is truly in love with the situation he is currently in. Never in his career has he been embraced the way he has been in New England.
I also believe that his agent, Bus Cook, will fully endorse the idea of taking less money for a more stable and winning environment. Cook has been with Moss through the worst of situations and I would find it hard to imagine Cook giving Moss advice to seek out the most money out there (He's no Scott Boras).
Randy Moss and Tom Brady will continue to thrive as the ultimate quarterback-wide receiver combination in the NFL. When all is said and done, Moss will go down as a Patriots Hall of Famer and one of the best players ever to don the Blue and Silver (Not sure if Blue and Silver fit here, but I hate the Pats so I don't care).