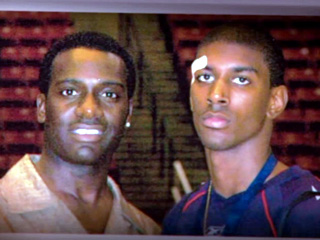 Besides the NBA Draft, the summer is not looked at as a time to watch Men's basketball, except if you're an agent or "runner" like Rodney Guillory. If you have not heard the name Rodney Guillory before, then here is a brief recap. Guillory was said to be the "runner" between BDA Sports Management and O.J. Mayo. A "runner" is basically a middleman between an agent and athletes. "Runners" work with kids that are in high school or in college because agents cannot talk to these student athletes yet . Guillory was O.J. Mayo's "runner" or close friend that is credited with giving him thousands of dollars ($300,000) while Mayo was at USC. The association between Guillory and BDA has been denied by BDA, and a paper trail has not yet been found (leaving BDA with clean hands…temporarily…on this matter), however after the story aired on ESPN, Mayo decided to change agents. Despite all the drama, O.J. was still drafted with the #3 pick in the 2008 NBA Draft. This is not the first time an incident like this has happened, but after the sticky situation, many talented kids are now aware of these dirty middlemen.
The Rodney Guillory debacle has sounded an alarm for the O.J. Mayo's of the future. Summer is the time of the year where future NBA stars are found and many of tomorrow's talented players rise to the top in camps or training. The summer time is also when NBA stars (Steve Nash, for example) and college coaches all over the country hold camps for these athletes to get exposure. The camps attract many agents and individuals associated with basketball, like Rodney Guillory. Mayo claims to have met Guillory at one of these summer camps in 8th grade.
Many amazing athletes now have to look out for people who want to take advantage of them (Helping You Lose Your Money Effectively). After O.J's recent mistakes, many athletes are now aware of the damage it can cause to let one bad apple into their entourage. "If you let one person into your circle, they can mess everything up," John Wall, a junior point guard from Word of God Christian Academy in Raleigh (NC) said. Wall is considered one of the top players in this year's class, and is in the same shoes that Mayo was in last year.
This is a horrible position for Mayo and others to be placed in and the one-year-out of high school NBA will only make this story more frequent. However, not all middlemen and agents are bad people, trying to take advantage of young athletes. There are always going to be Rodney Guillory's somewhere out there, and there always have been. The  Guillory story shows us the dark side of the industry. Not all people are as mischievous as Guillory.
The Rodney Guillory effect should not cause individuals to blame agents, as BDA did not do anything illegal with Mayo (as far as we currently know). This sad story should focus on the need for more regulations and checks to be made in high school and college basketball, and amongst agents. As I said earlier, not all agents and "runners" are bad people. AAU and summer basketball attracts a lot of America's best basketball stars, yet it is highly unregulated. Almost any Joe Shmo can walk into a gym and watch these events. That is where it all starts. The rest comes when these "runners" violate NCAA rules and give athletes money or other benefits.
Basketball camps should be arenas were athletes can show off their talent to all. They do not need to be worrying about who is watching them, especially if these individuals can get them in trouble. The athletes should focus on their game and let everything else fall in place. They get into trouble when they start finding friends like Guillory and talking to people in the industry that claim they will make them rich.