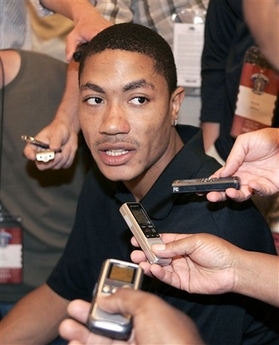 Mid-day yesterday, Adrian Wojnarowski of Yahoo! Sports broke the news that Michael Beasley dropped his agent, Joel Bell, and his advisor, D.C. Assault director Curtis Malone.  Talk about some fun distractions for a rookie with a somewhat muddy past that should be focusing on meshing with his new teammates and learning how to play at the next level on a rebuilding squad.  The Heat just finished hearing that their rookie point guard, Mario Chalmers, was thrown out of the NBA's mandatory rookie transition program.  Now the #2 overall pick is in the midst of choosing a new agent to handle what should be a shining career.
Besides worrying about the state of the Miami Heat, what will this move mean for the future of Joel Bell and Bell Management International?  Beasley was definitely the staple of Bell's client list, although he does have solid clients in guys like Jamario Moon and Steve Blake.  But this year has definitely been a huge setback for Bell.  Not only has he lost Beasley, after definitely putting a lot of time and money into the former Kansas State stud, but he also witnessed his other drafted client, DeAndre Jordan, drop him for WMG after Jordan was selected in the second round.  Jordan was definitely disappointed at the position he was drafted, and Beasley seems to have been upset with Bell's success in landing him strong endorsements (I am sure the shoe deal is a major part of that).
Wojnarowski hypothesizes that Aaron Goodwin of Goodwin Sports Management has the best shot at landing Beasley.  A lineup that includes Kevin Durant, Al Horford, and Michael Beasley looks pretty sexy.