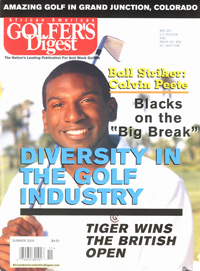 Sports agent Andrew Moss, CEO of the Hawaii based Onyx Sports Group Inc., pleaded guilty on Wednesday after being charged with defrauding a sponsor for $61,000 in June 2008.  The criminal act stems from a deal he had made for his golf client Scott Yancy III.  Yancy had a moment in the spotlight when he appeared on the Golf Channel's reality show "The Big Break II", and was trying to break into the PGA.  A sponsor identified only the initials "A.M." during the hearings had reached an agreement with Moss to sponsor Yancy's bid to join the PGA Tour.  The sponsor wired $50,000 to a bank account in Moss' name, set up for the strict purpose of paying the golfer's expenses.  But the money never got to Yancy.  The sponsor then demanded that the money be returned.  Moss proceeded to return $10,000, but then used the sponsor's account information to withdraw another $21,000.
Moss will face up to 20 years in prison and a fine of up to $250,000 when he is sentenced on June 13.  While Yancy still appears in the client list on Onyx's website, it is hard to believe that the golfer would stick with the agency.  Onyx's website includes athletes from basketball, football, baseball, and golf, including Washington Redskins quarterback Colt Brennan.
While Yancy was the only client that had a part in this scandal, one can only think that Moss' other clients may have been the victims of similar unscrupulous acts in the past.  Furthermore, Moss' actions certainly don't help the reputation of sports agents as a profession, which is often scrutinized for the multitude of scandals and lack of morals that the less than desirable members of this industry showcase.  It gives much reason to applaud those who stick to the rules and put themselves to a higher standard, despite the financial benefits that come with cheating.  However, if you are an aspiring agent, don't let these few bad seeds deter you from entering this industry.  Darren and many other agents have shown you can be extremely successful by bringing a higher moral standard to your work, and you in turn will help create a better environment for the industry as a whole.