Michael Whitaker is a basketball agent at Reid Entertainment.  Whitaker is not a common name in the industry like an Arn Tellem, Leon Rose, or Bill Duffy, and Reid Entertainment is not a name that floats around with WMG, CAA, or BDA, but Whitaker and Reid Entertainment have been making large strides in establishing a strong presence within the NBA.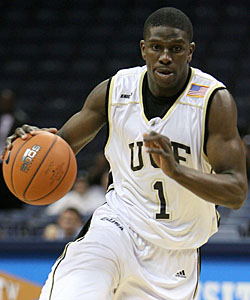 Whitaker is the primary agent for Stanley Burrell, Rashaun Freeman, Keith Langford, Ricky Minard, and David Teague (mostly overseas).  Most notably, he is the man behind last year's surprise NBA Draft first-round pick, George Hill, and a guy who has seen his draft stock explode over the past week: Jermaine Taylor (pictured: left).
Whitaker does not yet have the name or resources to go after the Blake Griffins and Derrick Roses, but he has done a very impressive job securing less scouted, high talented players into his agency.  Last year, George Hill from IUPUI (which everyone loves to try to pronounce come tournament time) was a surprise first-round pick.  But many attributed his rise to the hard work put in by Whitaker.  Among those who noticed, is Whitaker's most recent NBA Draft hopeful, Jermaine Taylor.  Taylor told Draft Express,
"What he's done for George [Hill] is great. He was in the same position that I'm in right now. He came from a small school, not too many people knew about him, and he went first round. I'm trying to do the same thing; I have all the confidence in my agent and right now he's showing me that he's doing a good job."
The 6'4 Shooting Guard from UCF is not doing too bad of a job himself.  Taylor has been the most talked about player at the Portsmouth Invitiational Tournament.  His performance has a lot to do with his recent press, but perhaps Michael Whitaker is playing an instrumental role as well.