Yesterday was a huge day for Dynasty Baseball.  The division added two new clients, which means that Dynasty now represents 9 players spread out between 6 MLB organizations.  The best part of the two signed players is that neither of them were recruited by Dynasty.  Instead, one was referred by a current client, the other, by another one of our clients and a player who is not even a client of ours.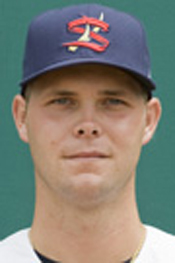 First of all, we welcome in the initial signee of the day, Kyle McPherson.  McPherson is a 6'4 210 lbs pitcher out of University of Mobile. In 2008, he made 15 appearances (seven starts) and went 1-3 with a 4.37 ERA in 55 2/3 innings. McPherson gave up just two hits over nine scoreless innings in his final two outings of the season. The Pittsburgh Pirates selected McPherson in the 14th round (428th overall) of the 2007 amateur entry Draft.  McPherson is currently on the West Virginia Power, which is Gary Amato's old team.  If you remember, we signed Gary in the beginning of this eventful month.  A couple of days later, Amato was released by the Pirates organization.  We quickly found him a new home with the Washington Nationals, and Amato has been very happy since.  The Nationals have him working on some new pitches in Extended Spring Training and are very excited about his potential.
Kyle McPherson took notice to the job we did with Amato and had his family reach out to us.  He also had non-clients tell him good things about Dynasty.  We are happy to add Kyle to the family.  And we are happy that he picked up the win last night in his start with the Power.
The second player to join the ranks of Dynasty Baseball yesterday was Ben Billingsley.  Ben is the third Seattle Mariners organization client with Dynasty and played with Tommy Johnson and Nick Czyz (Dynasty clients) last year.  Tommy and Nick are the type of guys you love to have as clients.  They are good spirited, humorous, and even call me to check up on how I am doing.  Anyway, Tommy told Ben that he had to come on board and Ben was hooked.
A little info on Ben: He is a 5'11 185 lbs second baseman out of Lenoir Community College.  In 2008, Billingsley appeared in games at second base, third base, shortstop and left field.  He recorded season-high 7-game hit streak, batting .444 (12×27) with 5 runs scored, 3 doubles, a triple, 2 home runs and 10 RBI, July 12-18. The Seattle Mariners selected Billingsley in the 16th round of the June 2008 draft.
Already, Ben has received time this year in Triple A.  We have high expectations for Billingsley and the rest of our wonderful clients.  And we love it when our boys let others know the type of service we provide!