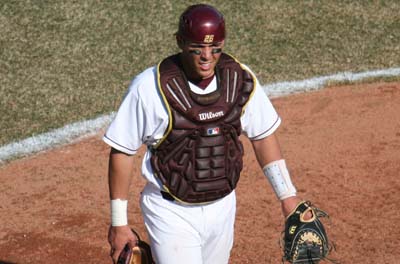 The MLB Draft occurred just last week, but already, three first-round picks have signed with the teams who picked them.  The disadvantage of signing early is that you forfeit seeing what other players are signing for.  There is a possibility that you sign for less than you could make if you hold out until the deadline.  The positive is that you show goodwill to your signing team and get started within the organization as soon as possible.  Many teams will start you on a higher level, and you will be well on your way up the system while your colleagues are holding out for more money.
Normally, the signing deadline for drafted players is August 15th.  Because August 15th falls on a Saturday this year, the MLB has pushed the deadline  back to August 17th.  Expect a lot of first rounders to sign within minutes of the deadline.  But then there are those who have already signed, two months earlier than they had to.  Tony Sanchez is currently playing with the West Virginia Power of the Pittsburgh Pirates organization (where Dynasty has 2 clients: Kyle McPherson and Ryan Kelly), Drew Storen is with the Hagerstown Suns of the Washington Nationals organization, and Eric Arnett will be sent to Brewers Rookie Ball (Helena).
To be able to start playing in Class A or Rookie Ball now, is definitely a plus.  What about the signing bonuses?
Tony Sanchez (#4 overall) – $2.5 million. College Junior – Catcher.
Drew Storen (#10 overall) – $1.6 million. Draft-eligible College Sophomore – RHP.
Eric Arnett (#26 overall) – $1.2 million. College Junior – RHP.
Last year, the #4 overall pick (Brian Matusz, College Junior – LHP) signed for $3.2 million, higher than Tony Sanchez's bonus.  Left-handed pitchers are very valuable, but so is the skilled position of Catcher.  Additionally, the #5 overall pick was a College Junior Catcher named Buster Posey.  Drafted one slot later than Sanchez, Posey received the largest bonus of the draft – $6.2 million.  The Pirates spent $6 million on their 1st round pick last year (Pedro Alvarez), so Sanchez really could have probably made more if he held out a little longer.  But again, the positives of signing early..
Last year's #10 overall pick (Jason Castro) was a College Junior Catcher from the same university as this year's #10 overall pick – Stanford University.  Castro also signed for more money than this year's #10 pick.  He received a bonus of $2.07 million.  Again, a highly skilled Catcher is very valuable, but Storen was seen as someone who could help out the Nats immediately.  Storen was also probably drafted in this position because of his signability.  Presumably, the Nationals knew that he would be a quick sign, which is why he was taken at #10 overall.
The #26 overall pick last year was Daniel Schlereth, a College Junior LHP from the University of Arizona.  As previously stated, LHPs are often valued higher than RHPs.  Schlereth received only a little more of a bonus ($1.33 million) than Arnett.
All three first round players that signed, did so below slot value.  I believe that Storen and Sanchez have legitimate reasons for doing so.  But maybe Arnett should have taken a little bit more time before agreeing to the terms of his deal.  What are your thoughts?