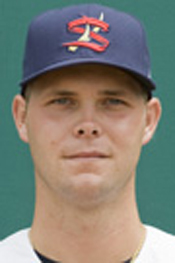 Kyle McPherson is on a mission to end the 2009 season with a bang.  The 14th round pick of the 2007 MLB Rule 4 Draft for the Pittsburgh Pirates, started the year with the Class A West Virginia Power.  He had a 5-2 record along with 32 strikeouts and only 6 walks before what most would think of as a demotion.  He was sent down to the short season New York-Penn League, a league that is deceptively strong because of the number of young prospects that teams place in the region.
Instead of complaining, McPherson understood the situation.  The Pirates wanted to see how he would perform against young, future big-leaguers, and Kyle only being twenty-one years old himself, focused on doing whatever he could to impress his coaches.  He has done just that.
Since joining the State College Spikes Pittsburgh Pirates affiliate, McPherson has a 3.03 ERA and the opposition is only batting .253 against him.  The most impressive stat is his K/BB ratio, currently sitting at 5.6.  In 68.1 innings, he has struck out 56 batters and only walked 10.  Also impressive, is that the right hand pitcher has a slightly better ERA against left handed batters than right handed ones.  This is something that will help McPherson grow as a starting pitcher within the organization.
Since joining the Spikes in June, Kyle's ERA has gone down every month, with his best month of the season being August.  In August, Kyle has pitched 30 innings in 5 games, going 6 innings in each game.  He has racked up 23 strikeouts in that span and allowed the opposition to bat a meager .204 when he is on the mound.  His ERA in August is 2.10.
Here is what Guy Cipriano of the Centre Daily Times wrote about McPherson's performance last night:
McPherson's ability to locate inside fastballs, some as hard as 93 mph, mixed with changeups, many below 80 mph, fooled one of the NY-PL's most aggressive teams.

McPherson allowed three singles and one walk in six scoreless innings. He struck out eight, including two in the first and third innings to foreshadow later success.

"He got strikeouts with his fastball, but he used his changeup to keep them off his fastball," manager Gary Robinson said. "He used it just right. He sped the hitters up and then slowed it down and then sped them up. He did a great job."

"The changeup was a devastating pitch," McPherson said. "They are a very aggressive team and that made the fastball that much more beneficial."

The outing extended a strong streak. McPherson, who started this year at full-season West Virginia, has lasted six innings in his past five starts. McPherson's previous start was a no-run, seven-strikeout performance against Brooklyn on Aug. 21.


"I feel like it's great to get to the end of the year and stay strong," said McPherson, who has thrown 1191/3 innings between State College and West Virginia. "Everybody wants to end their season on a high note. I hope to do that. I'm working to do that."