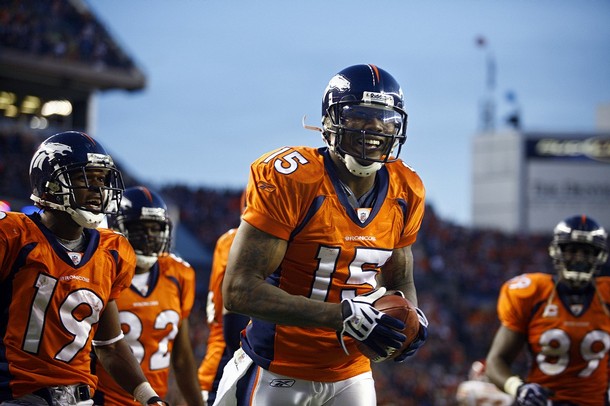 The Brandon Marshall saga has tabbed the unruly pass catcher as just another troublesome wide receiver.
Just add him to the list of the NFL's recent malcontents: Terrell Owens, Chad Ochocinco, Keyshawn Johnson, Deion Branch, Jerry Porter, and even in his short time in the league, Michael Crabtree, among others.
While he may be going about it wrong, he does have a point. He is scheduled to earn $2.2 million this year, a similar figure to what Bobby Wade, Arnaz Battle, Dexter Jackson, and Delanie Walker earned in 2008. But Marshall's 206 receptions in the past two seasons suggest, obviously, a much higher level of play compared to his salary.
Everyone already knows Marshall is much better than his compensation, so how does he, or anyone for that matter, get a raise or a trade without being considered a team cancer? One way would be actually taking practice seriously and participating in team workouts, but Jay Cutler didn't and he got what he wanted.
The position that Marshall plays seems to be having an effect of the way he is perceived. There are many other players who have contract gripes each year that aren't as vilified as number 15 is. Julius Peppers complained to the Panthers asking to get traded and now he is the highest paid player this season.
Anquan Boldin has been pining for a deal or trade for a while, but has done nothing except a few complaints here and there to the Cardinals and the season is starting, and he is without a new contract or a new team.
Voicing a player's desire through an agent can only go so far. Although, one third of the traditionally difficult receivers that were listed above are represented by Drew Rosenhaus and one is represented by Joel Segal, who has his share of players who have had trouble with the NFL or NFL teams.
So it may be more that Marshall's trivial whining is actually a cerebral strategy, which in turn should not scare teams away from trading for or signing the star in the future as long as he is treated fairly.
Last year wasn't Marshall's first year of success; the Broncos should reward him with a new contract so the team can build around him and he can continue his reputation as a great wide receiver and a good entertainer, not as a disruption.
Though, maybe being a boisterous receiver has its benefits.  You don't see anyone watching The Torry Holt Show on VH1.