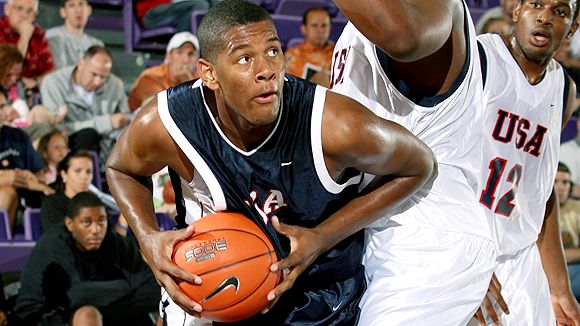 You have heard of Brandon Jennings.  He had problems attaining the requisite scores to go to a D1 school and decided to play his first year out of high school overseas.  His struggles were documented, but he was still a lottery pick of the Milwaukee Bucks.  There were many doubters.  He has shut them up thus far.  Through five games, Jennings is leading the Bucks in points-per-game (18.4), assists-per-game (4.4), and minutes-per-game (31.6).  Doubters have become believers, and it has made the NCAA nervous that young players will read up on the Brandon Jennings Experiment, deciding to play overseas for a year, pocket that money, and then hopefully be a lottery pick in a future draft.  Not so fast..
While Brandon Jennings may have "cheated the system", there are those that believe he will be a rare exception.  They look at someone like Jeremy Tyler, who has not yet tested his luck in the NBA or its draft, but has been struggling mightily overseas in Israel.  Tyler left the states a year younger than when Jennings left; he left before he completed his senior year of high school.  His coach in Haifa is not too fond of him thus far, calling him lazy, out of shape, naïve, and immature. I find it interesting that after only two games, Pete Thamel of the New York Times can already confidently say,
The Milwaukee Bucks rookie Brandon Jennings skipped college and had rocky moments while playing last season in Rome. But they were nothing compared with Tyler's.
What does this tell us?  Not much, yet.  Tyler still has a lot of time to prove himself overseas.  And let us not forget how much criticism Jennings received before becoming a solid player in the NBA.  It seems like some of our memories are very short.  I think it is way too early to call Tyler a bust.  However, if Tyler is unable to thrive in Israel and does not pan out in the NBA, then perhaps Jennings will be looked at as a fluke success story, and Tyler's story may dissuade others from following his path.
One thing that is certain is that there are a lot of important people paying particular attention to how Tyler fairs in the long run.  Those entities include advisors like Sonny Vaccaro, agencies like Wasserman Media Group, executives within the NCAA, David Stern, shoe companies, and many others.  Personally, I hope that Tyler wakes up and gets his mind right, because as an agent, I love having more options for potential clients.  If a future Jennings or Tyler came to me asking for guidance on what to do, I'd like to have confidence that playing overseas instead of NCAA basketball will not kill his future.