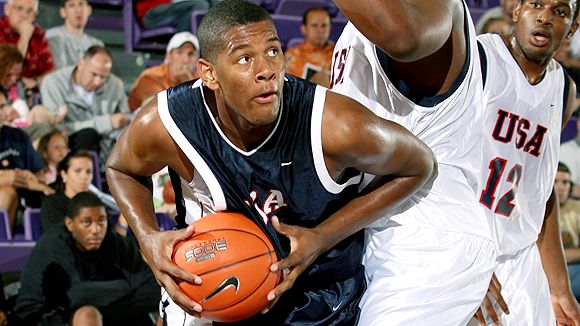 In the past year, I have had the pleasant opportunity of representing talented basketball players, finding them playing opportunities overseas, negotiating the terms of their contracts, making sure that they get overseas safely, continuing to monitor their progress, and staying in touch with them constantly through Skype.  I love the fact that there is a global market in the sport of basketball; it opens up a variety of opportunities for players who would be left working low paying jobs back in America if those leagues overseas did not exist.  Or if they are talented enough to play in the NBA's D-League, most of them still would be making less than what they are bringing in overseas.  But the overseas game is not for everybody, especially those who are not mature enough to handle it, have a strong potential in the NBA, and are not aligned with the right people to take care and nurture them in their time in a foreign country.
Case in point: Jeremy Tyler.  Everyone was talking about Jeremy Tyler in April 2009.  Before that month, I had never even heard of the kid.  He saw what Brandon Jennings did by playing overseas instead of going to school for a year (Jennings was also ruled academically ineligible to play), and raised it by leaving high school a year early to go play for Maccabi Haifa.  Daring, trailblazing…stupid?  In hindsight, maybe.  I can't say yes or no, but for right now I'll go with yes, pretty stupid.
I wrote the following statement on April 29, 2009,
If you think college is a shock to someone who has grown up with his parents doing the laundry and cooking dinner, jumping overseas alone would have the potential of seriously threatening a young kid's psyche.
Tyler wanted a high level of competition more than the amount of money he would get paid (supposedly).  Little did he know that the competition would actually be too high for him.  Sure, he could pull a Brandon Jennings (unsuccessful overseas, yet successful in the NBA), but Tyler is also different in Jennings in that Tyler could not even complete the terms of his overseas contract.  Last week, Tyler left Maccabi Haifa and came back to the United States.  He was through with playing in Israel.  I'm sure his average of 2.1 points, 1.9 rebounds, and 7.6 minutes will be sorely missed.
And then what about his agent?  Even if you didn't know that Tyler was leaving Israel early to return home, can't you at least play it off like you knew all along?  This was all a part of a larger strategy, no? No..
Tyler's agent said he wasn't aware of his client's plans to leave the team.

"I'm as surprised as you are. We had no idea he was coming home," Makhtar Ndiaye of the Wasserman Media Group told ESPN's William Weinbaum. "I'm speechless at this point and look forward to speaking with Jeremy. A contract, a learning process — things weren't great — but it was part of growing up. I'm disappointed and frustrated."
Definitely not how I would have handled the media.  But to each his own.  The one thing that passage reminded me of is what Seth Davis said few months ago.
I did a triple take when I read that Tyler's agents at Wasserman Media Group had the brilliant idea to send Makhtar Ndiaye, who is one of their agents, over to Israel to, as Thamel put it, "help [Tyler] focus." Ndiaye, you may recall, is the former North Carolina forward who accused Utah freshman Britton Johnsen of calling him the N-word during the Tar Heels' loss to the Utes at the 1998 Final Four. When the accusation rightly caused a major stir, Ndiaye was forced to admit he had totally made it up. Ndiaye played very briefly in the NBA and also spent some time in the NBDL, where he once drew a five-second call on an inbounds play because he was waving at a friend in the stands. This, my friends, is Jeremy Tyler's lodestar.
Can Arn Tellem please come in for the rescue?