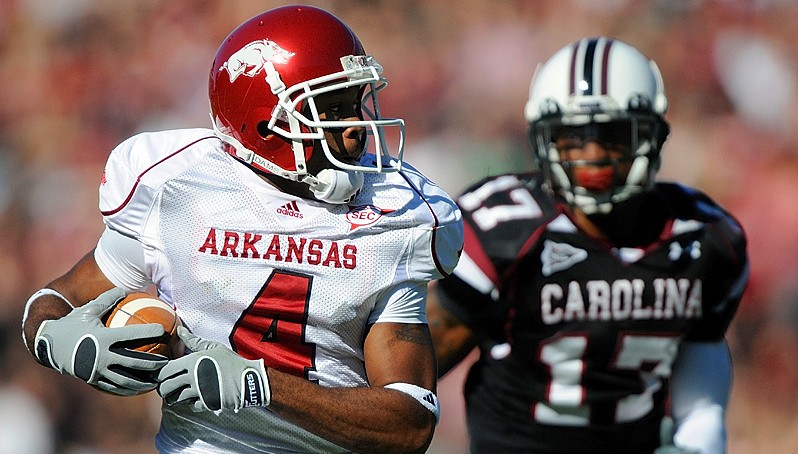 Long-time football agent Zeke Sandhu was added to the Morgan Advisory Group (MAG) team in May 2011.  Upon signing with MAG, Sandhu was given the title of Senior Vice President and has worked hand-in-hand with Wynn J. Silberman, who is also an NFLPA certified contract advisor.
I have already covered Sandhu's signing of University of Miami's Laron Byrd.  NFLDraftScout.com currently lists him as the 54th best wide receiver eligible to be taken in the 2012 NFL Draft.   The receiver from Louisiana picked an agency that is not based in Miami…and does not have an office in the State of Florida.  MAG is based in California and Arizona.
Other than Byrd, Sandhu and MAG have also signed up Jarius Wright, Greg Childs, Kentrell Lockett, and Micanor Regis.
Jarius Wright is a wide receiver from Arkansas who is rated higher than Laron Byrd.  NFLDraftScout.com says he is the 16th best receiver out of those who may be selected in the draft.  He was selected to the 2011 All-SEC Conference First Team by the coaches and Associated Press.  He shattered records for single season numbers at Arkansas with 1,029 yards receiving, 63 receptions, and 111 touchdowns in 2011.
Greg Childs is another wide receiver out of Arkansas, but he is not rated as high as Jarius Wright.  NFLDraftScout.com currently has Childs as the 35th best receiver in the 2012 NFL Draft.  Childs could be a late round pick in the draft.
Continuing with the southeast theme, Sandhu and MAG secured Kentrell Lockett for representation.  The defensive end from Ole Miss is currently ranked as the 34th best DE in the draft by NFLDraftScout.com.  The 6'5, 248lbs Lockett started the 2011 slow and sat out from quite a few games, but ended strong accumulating 19 total tackles in his last 3 games.
Finally, Micanor Regis is another University of Miami player under the MAG umbrella.  Certainly shadowed by other University of Miami prospects in the 2012 NFL Draft, Regis is a big body at 305lbs.  The defensive tackle hopes to strengthen his stock in the inaugural Battle of Florida All-Star Game on January 21, 2012.