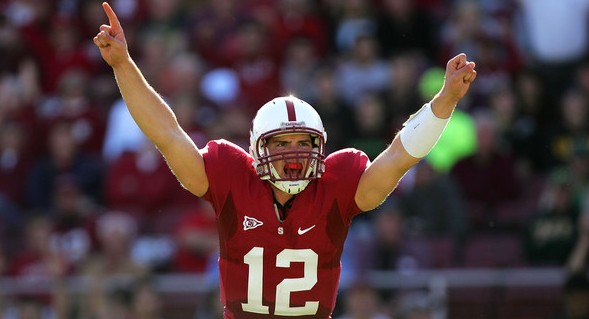 Wasserman Media Group's Athlete Management division has been best known for the leadership of Arn Tellem, who represents some of the highest profile athletes in professional basketball and baseball.  Tellem's name has recently been in the news regarding whether or not the Texas Rangers will sign his Japanese starting pitcher client Yu Darvish by this afternoon's deadline, but recently, someone else has stolen the show at Wasserman.  That person is a brand new part of the Athlete Management team and is about to make a huge splash in the sports agent industry.
Wasserman Media Group has long resisted entering the world of representing professional football players.  In order to change course, the company needed a really good incentive.  That incentive just happens to be former Stanford quarterback and likely future #1 overall pick Andrew Luck.
Within the past few days, Wasserman Media Group hired Andrew Luck's his uncle and NFLPA-certified advisor Will Wilson, who will represent Luck leading up to the 2012 NFL Draft.  Wasserman has also named Wilson the company's Executive Vice President of Football.  Wilson formerly served as Executive Vice President of International Business & Special Events of Major League Soccer (MLS) and Soccer United Marketing (SUM) for the past four years.
Wasserman Media Group will not only represent Luck with regards to his professional contract with the team that selects him, but the company will also help Luck find opportunities off the field of play, including marketing endorsements, media relations, social media counsel, and charitable and community development.
On Twitter, I openly wondered whether the signing of Andrew Luck and the establishing of a football division may hamper Casey Wasserman's interest in being strongly involved in a future Los Angeles NFL team.  Apparently, Wasserman does not believe that hiring Wilson and representing Luck will conflict with his efforts to bring a team to Los Angeles.