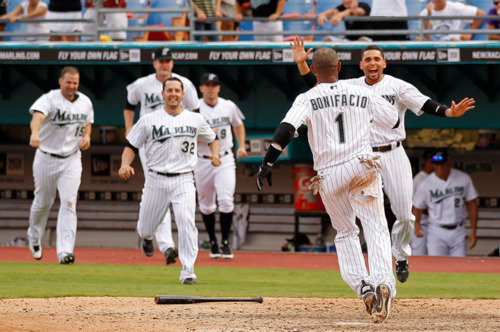 While a little over a handful of arbitration eligible baseball players remain unsigned, most players who were eligible for arbitration have either gone to hearing or settled with their respective teams on single or multi-year deals.  The unsigned player who is garnering the most attention is David Ortiz, who has requested $16.5 million, while the Boston Red Sox offered Ortiz $12.65 million.  The gap, and player, are rather large.
Thus far, there have been more salary arbitration hearings than all of last year (there were three hearings last year).  The teams lead the players in number of victories, with a record of 3-2.  The only two team losses have been suffered by the newly minted Miami Marlins, who are among roughly five teams who subscribe to a "file-and-go" approach.  The file-and-go tactic is a measure adopted by teams in an effort to try to deter getting to the point of officially openly exchanging numbers just prior to arbitration hearing.  If the file-and-go team exchanges figures with the player, they will go to hearing, even if the split is extremely small (see: Emilio Bonifacio – $1.95 million/$2.2 million split).  The Marlins also happen to be one of the few teams that handles all arbitration preparation and the actual arguing of their side at hearing in-house.  The club's overall arbitration hearing record is an abysmal three wins and seven losses.
Here is a list of the players/teams who have gone to hearing, along with their results:
John Lannan lost to the Washington Nationals ($5 million/$5.7 million split).  Lannan is represented by Brodie Van Wagenen of Creative Artists Agency (CAA).
Jeff Niemann lost to the Tampa Bay Rays ($2.75 million/$3.2 million split).  Tampa Bay is a file-and-go team, and has improved its record to 6-0 all-time (much different story than the Marlins).  Niemann is represented by Hendricks Sports.
Anibal Sanchez defeated the Miami Marlins ($6.9 million/$8 million split).  No starting pitcher had ever received an arbitration hearing award this large.  Sanchez is represented by Eugene Mato of Mato Sports Management.
Emilio Bonifacio defeated the Miami Marlins ($1.95 million/$2.2 million split).  A friend of Sports Agent Blog, Jay Reisinger, prepared and argued the case on behalf of Bonifacio.  Bonifacio's agent is Paul Kinzer of Wasserman Media Group.
Brad Bergesen lost to the Baltimore Orioles ($800,000/$1.2 million split).  Bergesen is represented by Paragon Sports International.