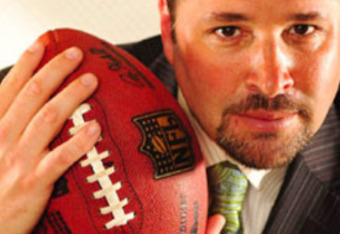 College football can be quite the dirty business, but you do not need former NFLPA certified Contract Advisor Josh Luchs to tell you that.  Since being featured in an extremely popular Sports Illustrated article written by Pulitzer Prize-winner George Dohrmann titled, Confessions of an Agent, Luchs has been on a country-wide tour of sorts, speaking on television shows, college campuses, and was even invited to attend NCAA Regional Rules Meetings.  Luchs took advantage of these opportunities to inform others about what he describes as the dirty business of college football and why he decided it was time to come clean about his actions and the actions of other NFLPA Contract Advisors.  Luchs' experiences as a football agent, his effort to "come clean," and his proposed solutions are all highlighted in his new book, Illegal Procedure: A Sports Agent Comes Clean On The Dirty Business Of College Football.
Much of college sports aficionados know the name Josh Luchs and probably are familiar with the fact that he is a whistleblower who has talked openly about his past transgressions, but likely know little more about the person who is responsible for blowing the lid on a major problem in college football.  A large problem that Luchs focuses on is one whereby state and federal laws, in conjunction with NFLPA rules and regulations, have effectively created an atmosphere where there are many agents who are violating the laws and rules and getting away with it, while those who adhere to the laws and rules are inhibited from effectively competing.  Luchs' book does a fantastic job of providing examples of the disregard that many in the business of college football have shown throughout his time working as an agent, but my favorite part of narrative was probably Luchs opening up about his childhood, family life, and continued use of Yiddish throughout.
Yahoo! has published an excerpt from the new book that details Luchs' relationship with former Ohio State running back Maurice Clarett as Clarett was preparing for the NFL Scouting Combine.  Andy Staples of Sports Illustrated has written an article, which highlights Luchs' proposal to permit NFLPA Contract Advisors to go through a new certification process through the NCAA that would allow those agents to provide loans to student-athletes.   I will focus on the best phrased section in the most interestingly worded Chapter.  It is in Chapter 3 – Paying a player is like losing your virginity. You can never get it back.  The section is titled, Find the Fat Chick.
Luchs shared some words of advice he had received in the past – that every college campus has "a big girl with a big ass" who can always be found in close proximity to the school's football building, knows all the football players, knows intricate details about them, and is practically a stalker.  Luchs flew to Knoxville, Tennessee to meet with running back Chuck Webb without even knowing what he looked like.  Long story short, Luchs found an overweight girl in a Volunteers t-shirt right around the football building, who told Luchs when to hang around the weight room if he wanted to meet with Webb.  Sure enough, Luchs got his meeting, gave Webb a few hundred dollars, Webb flew out to Los Angeles to meet with Luchs and grab some food at a Hamburger Hamlet, and then Webb signed a contract for representation.  Except this story can't have such a happy ending.  In fact, it doesn't.  Webb ended up leaving Luchs stranded in Toledo, and worst of all, stole Luchs' Game Boy.
If you somehow ventured to this website, and more specifically, this Book Review, you know that the book, Illegal Procedure: A Sports Agent Comes Clean On The Dirty Business Of College Football, is a part of your required reading.  Luchs takes a serious subject, adds in a great deal of humor, calls out quite a few agents that I have covered on this website, and most importantly, takes the time to discuss whether and how the sport of college football can be saved.  Start reading, and be sure to share your thoughts.