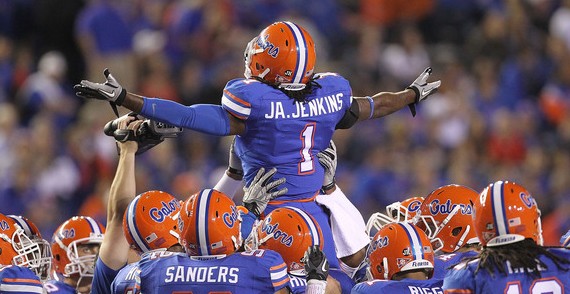 Two days ago, I chatted with NFLPA Contract Advisor Malik Shareef of Roanoke, Virginia regarding a rumor I was hearing that he was in line to be the next agent for 2012 NFL Draft hopefuls Janoris Jenkins and Dwight Bentley.  Jenkins and Bentley, former high school teammates from Pahokee, Florida, each recently fired their agents.  Jenkins terminated Creative Artists Agency (CAA) and Bentley moved on from SportsTrust Advisors.  When I asked Shareef whether the rumors were true, he said that he was certainly interested in Jenkins and Bentley, but that nothing was set in stone.  It turns out that only one day later (yesterday), Shareef ended up signing the two cornerbacks.
Liz Mullen of SportsBusiness Journal confirmed that Shareef has, in fact, signed Jenkins and Bentley.  The signings of the two notable cornerbacks comes on the heels of Shareef becoming the NFLPA Contract Advisor for New York Giants wide receiver Victor Cruz.  There is probably not another agent who is experiencing the success that Shareef has had over the past month.  And he certainly needed it after receiving the disappointing news that his former marquee client, Cleveland Browns defensive back Joe Haden left him to sign with Drew Rosenhaus.
NFLDraftScout.com currently lists North Alabama's (formerly University of Florida's) Janoris Jenkins as the 4th best cornerback in the draft and likely to be selected in the 1st round.  The website has Louisiana-Lafayette's Dwight Bentley as the 12th best cornerback and the 87th best player on the board.