What: 2012 NHL Draft Hockey Career Conference
When: June 21 – 23, 2012
Where: DoubleTree by Hilton Hotel & Suites Pittsburgh Downtown and Consol Energy Center (Pittsburgh, Pennsylvania)
The 2012 NHL Draft Hockey Career Conference is an opportunity to network and gain valuable insight into a variety of sports business careers from those working at the highest level in hockey. This event will offer unique panel discussions, as well as question & answer periods designed to advance the knowledge of every participant. This sports business conference includes diverse panels including marketing, management, athlete representation, scouting, player personnel, media and broadcasting, and sports career strategies. The NHL Draft is expected to attract over 3,000 visitors and more than 500 print, television, and radio media members to the Pittsburgh area.  Registration is limited to the first 200 people. This event has sold out in past years, drawing attendees from all over North America.
Speakers include:
Harry Sinden, Boston Bruins  former long-time general manager, coach and president
Jim Benning, Boston Bruins, Assistant General Manager
EJ Hradek, Sr Reporter for NHL Network/NHL.com. Host, NHL Live!
Ryan Kennedy, Associate Senior Writer for The Hockey News
Don Reynolds, NHL Agent, Uptown Sports Management
Todd Reynolds, NHL Agent, Uptown Sports Management
Rob Rossi, Pittsburgh Penguins Beat Reporter – Pittsburgh Tribune-Review
Dana Sinclair, Toronto Maple Leafs & Anaheim Ducks Sports Psychologist
Jim Prince, Rinknet Scouting
Denis McCarroll, Rinknet Scouting
Tavis MacMillan, Winnipeg Jets US Amateur Scout
Brian Werger, USHL Director of Communications
Mike Johnston, WHL Portland Winterhawks GM & Head Coach
Travis Green, WHL Portland Winterhawks Asst. Coach
Manny Schmidt, NHL Agent
Ron Mathurin, Vice President at STEVA Sports Software
Mike Oke, OHL Peterborough Petes Manager of Player Personnel
Dean Fedorchuk, former Straubing Tigers & Kassel Huskies, German Elite League Head Coach (DEL)
Dr. Lynn Lashbrook, Sports Management Worldwide President
And many more…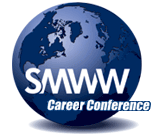 Cost: $200-$275 and includes a Thursday night welcome reception, lower bowl level draft tickets to all seven rounds of the NHL Draft, Friday networking lunch,  official name badge, attendee packet, and all conference sessions. College credit for both graduate and undergraduates is available.
For more information on the 2012 NHL Draft Sports Career Conference visit Sports Management Worldwide.  Questions contact [email protected] or 1-877-SMWW-Now (503-445-7105).