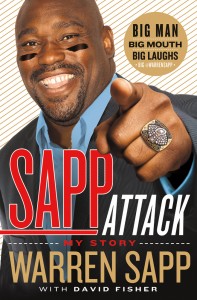 SAPP ATTACK.  The title is bold and in caps, which is exactly what should be expected from a man with the physical size and generous personality of former NFL defensive tackle Warren Sapp.  Currently an analyst on the NFL Network, Sapp found the time to write a book [click here for the Amazon link] that happened to be many times more entertaining than I thought it would be when it first arrived.  He was never afraid on the football field and likewise showed no fear in his prose, calling out people (in a humorous fashion) throughout SAPP ATTACK.
For instance, early in the read it is evident that Sapp really did not like his first head coach, Sam Wyche.  Sapp was selected in the first round by the Tampa Bay Buccaneers (Sapp called them the "Yuks" growing up in Florida), back when they wore those cream-sickle orange uniforms with the laughable Bucco Bruce logo on the helmet (of course Sapp points that out).  Wyche was the coach of the Bucs prior to Tony Dungy taking over and rebuilding Tampa Bay.  In the book Sapp says, "A reporter once asked me what I thought about Tony Dungy.  I told him, 'I would take a bullet for that man.  Long as it didn't kill me, of course.'  That's compared to Sam Wyche; for him I wouldn't have even taken a paper cut."  After Wyche came Dungy.  After Dungy (who Sapp had nothing but fantastic things to say about) came Jon Gruden.  Later in the book, Sapp added, "I always said that Tony Dungy put the damn cake in the oven, and then Jon Gruden came in and put the icing on it.  Of course, Sam Wyche couldn't even get the mix out of the box."  That's the type of no-nonsense writing found throughout the book, which made it hard to set it down.
Sports Agent Blog readers will also take interest in Sapp's stories concerning his representation.  He talks about how his buddy Russell Maryland, who had been the #1 pick in the NFL Draft was represented by Leigh Steinberg and suggested that Sapp use Steinberg as well.  However, when Sapp was with Russell and Steinberg's assistant failed to recognize Russell on a phone call, Sapp said he knew right then he would never be "Warren who" and moved on in his search.  He eventually chose Drew Rosenhaus.  Here is a section from the book that speaks to his selection of Drew:
Other agents told me that Rosenhaus was stealing millions of dollars from his clients, but when I asked Robert [Bailey] about it, he shook his head and said, "Sapp, if I was standing in a pile of shit, you think I'd pull you in?  I'd tell you to run the other way and get myself out of it."
Sapp found that to be as strong a recommendation as he had ever heard and he quickly became a Rosenhaus client.  There are also great stories about the contracts that Rosenhaus negotiated for Sapp.  Perhaps the most powerful line for those who want to be football agents is where Sapp states, "For all those people who believe the agents are making a fortune, I paid Drew 1 percent of my $400,000 rookie-year salary, or $4,000."
Other than talk about his coaches and agent, Sapp divulged a great deal of information about what goes on in the trenches and in the locker room.  Throughout, he let his personality shine, and even linked to a YouTube video of a dance he coined called "the Beyonce."  Watch below at your own risk.
And spread throughout the book are memorable lines that could only be written by Sapp.  An example is when he writes, "Negotiating a new contract without making the Pro Bowl is like having your wedding without a bride.  It's a nice celebration, but at the end of the day you ain't getting nothing. 'Let's just let it roll.'"
Sapp is a big man.  He has a big mouth, has had big problems, and made big plays in the NFL.  Purchasing his memoir should not be a big decision; it should be an easy one.  Any reader will come away thinking Sapp is forthright, brash, and outspoken, but also knowledgeable and respectable.  It is definitely recommended reading.