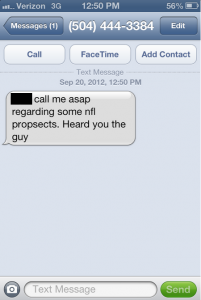 Yesterday, at 5:11 p.m. EST I received an email from a friend who (unbeknownst to me) received his certification to practice as an NFL Players Association (NFLPA) Contract Advisor a couple of years ago, but has not signed an NFL player in that time and plans to let his certification lapse next year. The email stated that my Contract Advisor friend received a phone call from an unidentified individual (with a New Orleans, Louisiana phone number), who held himself out as someone with authority to "shop" NC State University corner back David Amerson. Yes, the same David Amerson written about on Sports Agent Blog less than a week ago, because other individuals were alleged to have been claiming that they were running Amerson's agent selection process. But this phone call, from the unidentified individual, does not seem to be related to Eric Leak and/or Damon McNair, subjects of the previously written article concerning Amerson.
After further investigation, Sports Agent Blog has learned that the New Orleans phone number that came up on the Contract Advisor's Caller ID was the same phone number that multiple agents had in their incoming call logs dating back at least three years. Caller ID website MrNumber.com lists one user comment regarding the phone number. Unwanted and unknown callers are an increasing problem for everyone, if you are wondering who was on the other end of the line, you could use a reverse phone lookup to see who it really was.
Guy called about an overseas contract askin for money before I get out there..idk
Many agents said that the person on the other end of the phone referred to himself as Al Weber. Since originally publishing this article, readers have pointed out that a 27-year-old basketball player by the name of Albert Weber was born in Marrero, Louisiana (16 minutes from New Orleans) and played at Mt. Zion Christian Academy and for coach Mark Gottfried at Alabama. An athlete business manager has also confirmed that "Marrero, Louisiana" appears on his Caller ID when he receives calls from the person holding himself out to be Al Weber. Sports Agent Blog confirmed that Albert Weber from Marrero, Louisiana is the culprit behind the telephone calls.
One football agent said that Al Weber has been packaging Amerson and Tyrann Mathieu of LSU since the beginning of this year. Another agent explained that Weber tried to sell him on both football and basketball players, and that Weber called him in 2009 to talk about former St. Joseph's basketball player Tasheed Carr. Yet another agent wrote to me, "Says he's connected with everyone. It's quite funny. He's called me three times always saying he had a new player. Would get pissed when I said no and asked for their info." That agent said Weber claimed to "have" Tony Mitchell of North Texas, currently predicted by DraftExpress.com to be the eighth player selected in the 2013 NBA Draft.
Every agent who spoke to Sports Agent Blog used the same phrase to describe Weber – "he is a joke." However, Weber should not be taken as a joke. Unless Amerson, Mathieu, Carr, Mitchell and others tacitly gave Weber permission to "shop" them around to agents, Weber is taking advantage of non-existent relationships and falsely representing himself as someone that he is not. Unfortunately, the world of sport is plagued by too many individuals who target agents and offer a player for representation purposes. Even worse, these "shoppers" are often pushing around an empty cart and looking to take advantage of the willing.
Update (1:10 p.m. EST) – Al Weber claims that every agent who spoke to Sports Agent Blog is spreading lies. In fact, Weber says that he is not the one soliciting agents; instead, those agents incessantly call him to get information about players and seek to benefit from Weber's longstanding relationships with basketball and football players.
With regards to NC State University corner back David Amerson, Weber says that he has been in contact with Craig Anderson (NC State Assistant Athletic Director for Compliance) since the beginning of the year. Weber claims that Anderson knows Weber has a relationship with Amerson and told Weber to wait until the end of the season to be involved in Amerson's agent selection process. Sports Agent Blog has left a message with Anderson in an effort to confirm Weber's statement.
"Everybody who knows me from basketball knows I have great relationships in the industry," explained Weber to Sports Agent Blog. "All those guys have turned on me because I can't get kids on the phone and get meetings." But perhaps Weber's final statement, as he was getting off the phone to allegedly call his attorney, is most telling. "I can call whoever I want saying I can get you in position to get this player in the end. What's illegal about that? No one ever told me that was illegal."
Updated (3:30 p.m. EST) – Receiving many more calls from basketball and football agents confirming what was first reported in this story. Agents are continuing to explain that Weber constantly contacted them to get in front of players and then deliver them (for a price). It also looks as if Weber was quite active on the trail yesterday. Not only did he contact my friend who has never even represented an NFL player, he also apparently left a message for NFLPA Contract Advisor David Fish. See:
[blackbirdpie url="https://twitter.com/FishLaw/status/251034366019510272″]