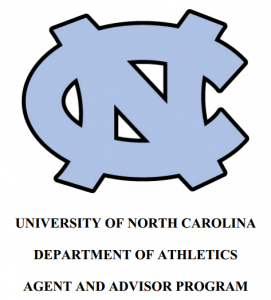 "This stuff is so good u can't make this stuff up."  That's what a football agent wrote to me in an email sent four days ago, including a forwarded message from Paul Pogge, Associate Athletic Director at the University of North Carolina.  The message's subject was "UNC Agent and Advisor Program," and the body of the message focused on UNC's new Agent and Advisor Program governing "all forms of contact" by agents, advisors and their representatives with UNC student-athletes and "affiliated individuals."
The new Agent and Advisor Program is fully laid out on UNC Athletics' Official Site, along with a summary and some questions and answers for agents, advisors, representatives and student-athletes.  As with the vast majority of university sports agent policies, UNC takes the position that agents must register with the school prior to communicating with one of its student-athletes.  I have always found universities to lack any means of enforcing such a provision or penalizing agents for violating same.  But UNC takes the attempted control of communication to a whole new level.
Once registration with the UNC Department of Athletics is confirmed in writing, all subsequent contact with UNC student-athletes or affiliated individuals must be preapproved by both the Compliance Office and the appropriate head coach.  If approved, a member of the Compliance Office must be present for any in-person meeting or phone call with a UNC student-athlete or affiliated individual.  Similarly, any non-verbal communication or correspondence of any kind intended for a UNC student-athlete or affiliated individual must first be submitted to the Compliance Office for approval by both a Compliance Office representative and the appropriate head coach.  If approved, the Compliance Office will be responsible for provision of the non-verbal communication.  No form of contact or correspondence, verbal or otherwise, should ever take place with a UNC student-athlete or affiliated individual without the pre-approval and facilitation of the Compliance Office.
UNC says that the program will enable it to "provide information and structured communication for UNC student-athletes" and that it will "help them make an informed decision about their future representation."  The rules have understandably received a poor reception from people in the business of sports.
"Whatever happened to the First Amendment and right of free speech?," said a prominent agent who has done business at UNC in the past, to Sports Agent Blog.  "This is so far over the top it is crazy and ludicrous.  The players should be pissed, as well."  Additionally, Yahoo! Sports reporter Rand Getlin tweeted, "Forgive me for laughing hysterically at the new UNC agent policy. Completely unenforceable."