The following "Six Questions" short interview with President of Athletes First, Brian Murphy, was conducted by Belmont University Law School student and aspiring sports/entertainment agent Mark J. Burns.  Connect with Brian Murphy on Twitter.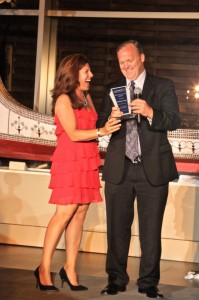 1. You created Athletes First in 2001. What motivated you to transition away from practicing law and into athlete representation?
I grew up in Boston as a big sports fan and idolized not only the Larry Bird, Ray Bourque and Jim Rice, but also the legendary Bob Woolf. I was fascinated by his job as a sports agent and decided at a young age that I wanted to follow that career path after law school. However, as I went through law school and maximized my school loans, I followed the more traditional path of going straight to the big law firm (Ropes & Gray) where I could make a nice salary doing document production and carrying the partner's briefcases to trials. I thoroughly enjoyed my experience at Ropes & Gray and learned from some of the best attorneys in the country, but I wasn't passionate about going to work every day. As such, I began to look for a job about which I could be passionate right about the same time that I received a call from a friend telling me that Leigh Steinberg was looking to hire the "next Jerry Maguire."  I interviewed for that job although it was 3,000 miles away from my family and my wife's family and accepted their eventual offer of employment. In short, this was a transition that I wanted to make because it appeared to be a job where I would love going to work every day…and that turned out to be true.
2. How has your law degree from Harvard Law School assisted you in your professional career? As a follow-up, is a graduate degree really necessary to be a sports agent? Why or why not?
On a very surface level, having a law degree from Harvard has been helpful in terms of recruiting because it gives people who do not know me at all a sense of confidence that I do have some intelligence — at least until they hear me speak! More importantly, the law school experience itself was very helpful because it taught me the art of critical thinking, the skills of debating and fine-tuned my writing skills. Law school is also very helpful in terms of learning about precedents — a concept used in many contract negotiations — and the importance of research. As such, although the specific subjects I learned in law school are not all that helpful, including the sports law class, the skills that I learned and sharpened during law school are very helpful in this career. I do not think you need a graduate degree to be a sports agent, but you do need someone or some experience to teach you these skills because they are not innate and they are not taught in undergraduate classes.
3. Athletes First represents over 140+ NFL players. How has A1 become a formidable leader in that space? 
It is still strange for me to think that we represent over 140 NFL players when I look back to when we started. However, there is one absolute reason for our success in this industry and that is exceptional people — both our employees and our clients. When I was interviewing for my job at Ropes & Gray, my eventual mentor told me that they "only hired superstars" and that is why the law firm had had so much success. We have adopted that policy both in terms of the people we hire and the players we represent, but to us, the term "superstar" refers to the type of person somebody is. We want to surround ourselves with employees and clients who share our same family values, who also emphasize the importance of personal relationships, and who strongly want to help build the Athletes First family into the best we can be. These type of people attract similar people and it suddenly becomes very easy to have 20 employees and over 140 clients. I wish I could say that we were incredible recruiters or that we had some highly-sophisticated business strategy, but it really just boils down to surrounding ourselves with exemplary people.
4. What is one big challenge you had to overcome in regards to progressing in your career? What did you learn from that challenge?
My career has been full of many challenges, but the most significant one was the years of litigation we had to endure when we first started Athletes First. It is difficult enough to start a new company — particularly in this industry which is saturated with NFL agents — let alone starting a new company while dealing with an enormous litigation process that included both a federal trial and having to temporarily declare bankruptcy so we could file an appeal with the 9th Circuit. There were several times during that experience that it was tempting to give up on our dream and go pursue other careers. However, during the entire time period, we were surrounded by great people and we never veered from our company's values or business philosophy. We just put our head down and worked as hard as we could, always keeping the vision we had for Athletes First in our mind. We stuck together as a team, when at many times it would have been very easy to look out only for ourselves or to scapegoat, and we never stopped supporting one another. Although this was a difficult time period, the experience itself taught us that if we stuck together as a team, we could overcome any odds or obstacles. In short, this challenge taught us that the sum is indeed greater than the individual parts and is why we utilize the team approach in every aspect of our business.
5. You head up Athletes First's subsidiary company, Anonymous, which manages your clients' charities. What types of events do you help coordinate/produce with your clients?
Anonymous started off as Athletes First's "special project department" and then was spun off into a partially-owned subsidiary company and we are just finishing a transaction in which we are selling the entire company back to the majority owner who has helped us build Anonymous over the past ten years. Athletes First will still be affiliated with Anonymous, however, as we just purchased a building that we share together and it is a tremendous privilege to be able to work with that company on all of their fantastic charitable efforts. Over the past decade, we have moved away from the traditional charitable events and are now more focused on having our clients "partner" up with existing charities to help maximize the difference those charities are able to make in our community. For example, we have had many of our clients partner up with the Starkey Foundation and help them raise awareness and money to achieve their goal of distributing hundreds of thousands of hearing aids throughout the world. The one event we still do, however, is the Athletes First Classic which raises close to a million dollars a year for the Orangewood Children's Home. This is a fantastic two-day event at the St. Regis resort in Dana Point, California which features an 800-person dinner (Golden Heart Gala) and a golf tournament the next day. This past year we had approximately 90 of our clients fly in for the event and we honored Reggie Wayne for all the great charity work he has done over the years. Past honorees include Peter Ueberroth, Ambassador Argyros, Ray Lewis, Steve Young, Trent Dilfer, Warrick Dunn, Pat Tillman, Jim Harbaugh and the Hasselbeck family.
6. In 140 characters or less, what advice would you give to aspiring sports/entertainment business professionals who want to work in the sports agency world?
Strive for excellence in all you do. Find internships and create value. Be true to yourself and your friends. Never stop dreaming.