The following Sports Agent Blog contribution is courtesy of Brandon Thorn.
The Good: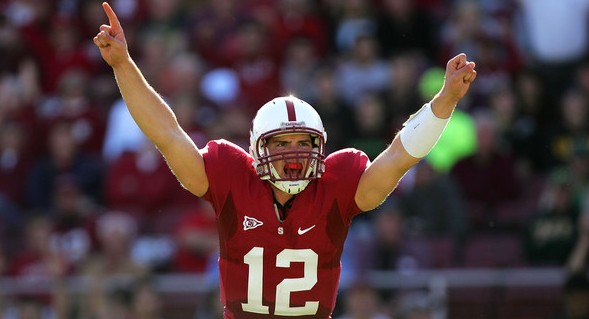 Indianapolis Colts – Andrew Luck out-dueled his predecessor Peyton Manning on Sunday, with the Colts defeating the Broncos 39-33. The 33 points scored by the Broncos were a season-low and Peyton Manning's day – 29/49 for 386 yards with 3 touchdowns and 1 interception – was amazingly his worst of the year.
The Colts were simply the better, more disciplined football team on Sunday. The Broncos had too many costly penalties and fumbled the ball three times. Andrew Luck continued the dazzling start to his NFL career with zero turnovers and four total touchdowns against the previously unbeaten Broncos. Colts fans have to be thrilled about the current state of their team and their future. Luck is undeniably the best young signal-caller in the league today. They have an ultra-motivating head coach in Chuck Pagano, and a brilliant decision maker in GM Ryan Grigson.
New York Jets – Head Coach Rex Ryan is gradually securing his job for another season in New York by churning out wins with a rookie quarterback and something that has escaped the Jets recently – team chemistry.
The Patriots had their top receiving threat (Rob Gronkowski) return to the field for the first time on Sunday, yet it was the absence of their top pass defender that mattered more. Cornerback Aqib Talib has been arguably the best corner in football so far this season, shutting down virtually every player he has been assigned to cover. Sunday's game proved Talib's worth when Jets receiver Jeremy Kerley caught 8 passes for 97 yards and a touchdown.
With all of the defensive injuries, the Patriots are going to need Talib to stay healthy so he can take away the opposing team's best receiver each week. Given the Patriots offensive struggles this season, giving up 30 points to opposing teams simply cannot be allowed, especially to an offense as inept as the Jets.
Robert Mathis – The NFL sack leader continued to terror the opposing quarterback, sacking Broncos QB Peyton Manning twice, bringing his league leading total to 11.5 through the first seven games.
Andy Dalton – Quarterback Andy Dalton played perhaps the finest game of his young career on Sunday, passing for 372 yards with 3 touchdowns and zero interceptions in a road win against the Detroit Lions. Dalton found his favorite target A.J. Green 6 times for 155 yards and a score. Finding the superstar Green, particularly deep down field, is something Dalton hasn't done enough in his career. While Dalton may be challenged in terms of arm strength, these kinds of performances will quiet his critics.
Harry Douglas – Atlanta headed into Sunday's game against division-rival Tampa Bay missing their top two receivers – Julio Jones (done for the year) & Roddy White (who missed his first game in 9 years). Receiver Harry Douglas has been a career slot receiver and perennial backup with a knack for using his game breaking speed to make the occasional big play. Douglas, a Georgia native, put on a show for the Atlanta crowd on Sunday, catching 7 passes for 149 yards and a touchdown in a much-needed 31-23 victory. With Julio Jones done for the year, Atlanta will need Douglas to step up to take pressure off of Quarterback Matt Ryan for the rest of the season.
Shane Suisham- Kicker Shane Suisham has been the unsung hero for the Pittsburgh Steelers this season, going a perfect 14 for 14 on the year. The last two weeks have been the first two victories of the year for the Steelers, thanks in large part to Suisham's 8 field goals. The kicker in football is a lot like the offensive line; the less their names are brought up means the better they are doing their job. When a kicker doesn't miss like Suisham, we're reminded of how valuable a solid kicker can be in a team's success.
The Bad:
Sam Bradford – Quarterback Sam Bradford was having the best start of his career before tearing his ACL on Sunday, ending his season. The Rams were barely hanging on in terms of competing in the NFC West, with powerhouses like San Francisco and Seattle at the top. After four seasons of mediocrity, Bradford's injury begs the question: will St. Louis look for another QB in the off-season? At the very least, they will have to bring in somebody to groom while Bradford gets one more chance in 2014.
Miami Dolphins – The Dolphins began the year winning three straight games, including a very impressive road win against the Colts in Indianapolis.
Since then, Miami has lost three straight games and appear to be who we thought they were before the season began – a young football team with an inexperienced quarterback (Ryan Tannehill) who is still wet behind the ears (Tannehill never played the quarterback position before his junior year of college), a shaky offensive line, and not a lot of offensive weapons. Their running game is essentially non-existent; the Dolphins haven't had a running back eclipse 70 rushing yards this season. Bringing in the overpriced WR Mike Wallace was a mistake because he isn't quite polished or imposing enough to be a true #1 receiver. As a #2 option and for far less money, he presents value. However, as the only real weapon on the team and a hefty price tag, his value is diminished.
The feeling around the league is that Miami spent a ton of money this off-season in hopes of buying their way to a team ready to make a playoff push. What they got in return was a few pieces of the pie.
Eagles offense – Last week, I wrote of the incredible start that the Eagles offense was on, joining the 2007 Patriots and 1983 Chargers as the only teams to gain at least 400 yards of offense in their first six games. Just one week later the Dallas Cowboys came to town and held the Eagles to under 300 total yards of offense with zero touchdowns scored.
Defensive Coordinator Monte Kiffin deserves a lot of credit for devising a game plan to shut down Chip Kelly's dynamic offense, especially considering the team's best player – DeMarcus Ware – missed the first game of his NFL career.
The Eagles have lost nine consecutive home games, an alarming stat that surely will be have to end next week when the lowly Giants come to town.
Denver Broncos dependency on Peyton Manning – The Broncos proved to people something that hasn't been recognized so far this season: If Peyton Manning isn't faultless; the team's chances of winning are drastically lowered. This has to change for the Broncos to be a viable Super Bowl contender in the playoffs. Given Manning's struggles in bad weather, by the time the playoffs come around, Denver has to develop a running game and/or have major improvement on the defensive side of the ball to win a Super Bowl this season.
The Ugly:
Jacksonville Jaguars – The (0-7) Jaguars have scored a season-high 20 points and a total of 76 points, the entire season. I think that about sums up things in Jacksonville.
Tampa Bay Buccaneers – The (0-6) Buccaneers continue to lose and their lack of leadership is startling. Losing close game after close game is a sign of a lack of leadership and that is exactly how the Bucs keep losing games. Head Coach Greg Schiano continues to try and knock on the door of his football team, but nobody is answering. With the rookie QB Mike Glennon now starting, this season is essentially a demonstration for him to show if the next coach that's hired will keep him or not.
Next week the Bucs host division-rival Carolina in a game that needs to be won to give the rest of the season some meaning. If they lose, their chances of making the playoffs are all but over.