The following article is a guest contribution from Robert DiMarco. Robert is a former Division I (FCS) fullback for Jacksonville University Dolphins football.  He majored in political science and minored English and writing, and is an aspiring law school student and sport attorney.  Robert currently serves as an Adjunct Instructor for Indian River State College tutoring students in English and writing. You can follow Robert on twitter @RDiMarco33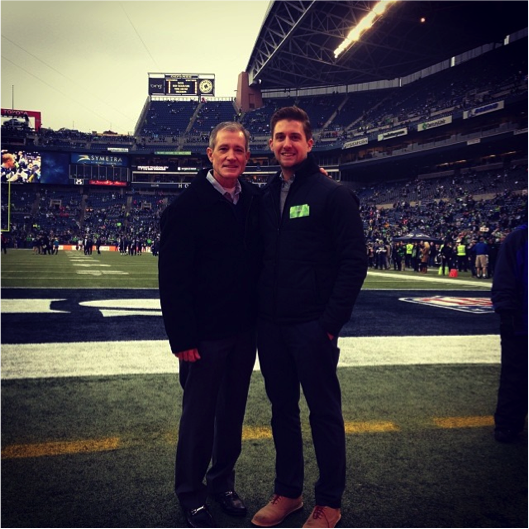 Frontline Athlete Management represents some of the most premier players in Major League Baseball including pitchers Jeff Samardzija, Cliff Lee, A.J. Burnett and 2013 MLB Draft first-rounders Kohl Stewart, Trey Ball, Hunter Dozier, Nick Ciuffo, and Rob Kaminsky, among others. Leading the helms of FAM are MLBPA certified contract advisors, Darek Braunecker and Mark Rodgers. Rodgers is one of the most recognized salary arbitrators in baseball, and he and Brauneker have a storied list of highlights since the two joined forces.
Trust, integrity, and high-caliber character have been key to their success, which attracted Super Bowl winning quarterback, Russell Wilson, [to Rodgers] on his return to the gridiron. But, behind the scenes lies a charismatic, versatile, and innovative young professional who handles the bulk of the agency's marketing, public relations, and social media.
Matt Rodgers, son of Mark Rodgers, is the Director of Communications, Film, and Electronic Media for FAM and has made an immediate impact to the agency over the past 15 months. At age 25, Matt has already directed, written, and produced an American Family Insurance commercial for Super Bowl XLVII and most recently, a 4 episode series on NFL Network, No Time To Sleep.
Prior to joining FAM, and working in the sports world for that matter, Matt graduated from Elon University with a degree in Media Arts and Entertainment— with a concentration on Film Production and Marketing—and co-founded Lunarscape Pictures. He credits his understanding of athlete representation and sports marketing to his cinematography background. "Marketing for a film is very similar to marketing an athlete in that you have to know and understand your demographics and fan base, but more so about how to increase the visibility of your client and how to create a strong presence in social media."
Living in Seattle, Matt has utilized Russell Wilson's strong social media presence in projects with Alaska Airlines and Microsoft— making Wilson the first athlete to publicly endorse an airline as well as the first brand ambassador athlete for a major tech company.
Despite his early success in the sports marketing industry, overcoming an age barrier has been the most challenging for Matt in his young career. "Being 25 in an industry dominated by professionals much older than me is difficult because it's hard to garner the respect from my counterparts who have worked longer in the industry. I don't view myself as a threat to my competitors, but as someone who can collaborate and develop a strong partnership with many seasoned marketing agents."
Nevertheless, he advises aspiring sport professionals to exploit and leverage their age to better develop their individuality and personal brand. "My age has empowered me with the ability to build strong relationships with my clients while becoming more relatable to my clients' needs, audience, and fan base. It's imperative to own my brand and have confidence in it so that my client's sponsors and endorsers have the confidence in their brand."
Though his background in the athlete representation and sports marketing industry is untraditional, Matt has surely developed a brand of character, cognizance, and versatility. Success in the sports representation business is all about being personable, charismatic, and trustworthy. It unquestionably personifies the Rodgers' father-son duo and Frontline Athlete Management, and it is reflected in their clients' reputations.
In the words of John Wooden: "It isn't what you do, but how you do it."
You can follow Matt and Frontline Athlete Management on twitter @MattRodgers83 and @FrontlineAM