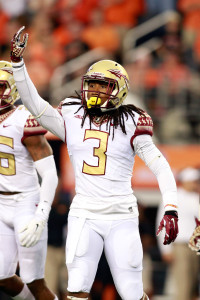 Florida State CB Ronald Darby will be foregoing his senior season to go pro. He has signed with Tory Dandy and Eugene Parker of Relativity Sports, according to Yahoo's Rand Getlin. This is yet another top prospect for the 2015 NFL Draft for Relativity Sports.
Darby, 5'11" and 195 lbs, had an impressive career at Florida State University. After his freshman season, Darby was named the ACC Defensive Rookie of the Year. Darby did not put up gaudy stats at FSU but a lot of that was due to teams avoiding throwing to his side. Darby projects to be a 2nd or 3rd round pick in the draft.
Relativity Sports has already signed multiple potential 1st round picks such as Shaq Thompson and Kevin White. It will be interesting to see if they can add any more players to this year's draft class.