Denver Broncos LB, Brandon Marshall, has signed with agents Drew Rosenhaus and Jason Katz of super agency Rosenhaus Sports, according to a tweet by SBJ's Liz Mullen.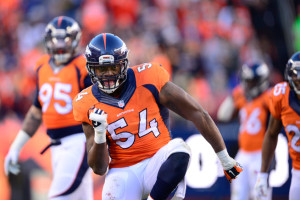 After a breakout 2014 campaign, the 25-year-old Las Vegas-native was hearing his name a lot more in the media. This lead the public to confuse him with current Chicago Bears WR Brandon Marshall, even though they play on opposite sides of the ball and have no relation. The 2012 fifth round pick compiled 113 total tackles (91 solo, 22 assists) and 2 sacks in 14 games (13 starts) last season.
Drafted by Jacksonville, he played five games as a rookie in 2012 before being signed to the Broncos' practice squad in September of 2013. He spent the first 16 weeks of the 2013 season on the practice squad before being signed to the active roster on December 24, 2013 and making an appearance in one game.
He will become a restricted free agent this offseason, so by signing with Rosenhaus Sports, he is looking to capitalize on his recent success in the league with a lucrative new contract.
Rosenhaus Sports prides itself on a formula of hard work, hands-on personal attention, resourcefulness and an unparalleled determination to succeed for their clients "no matter how daunting the task." With Drew Rosenhaus at the helm and his list of high-profile clients, LB Brandon Marshall will soon differentiate himself from his wide receiver counterpart.