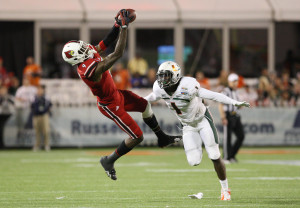 Louisville WR DeVante Parker has selected agent Jimmy Gould of Management One for representation. Per Sports Business Journal, Gould will handle Parker's playing contract as well as all marketing/endorsement deals. This is Gould's first 1st round prospect since Peter Warrick in 2000.
DeVante Parker is one of the top prospects in the NFL Draft and figures to be a lock for the first round. Playing in only 6 games in 2014, Parker amassed 43 catches for 855 yards and 5 TD's. One of his best games of the season came against Florida State, a team with potentially two corners going in the first round, where he caught 8 passes for 214 yards. Most big boards have Parker as one of the top 15 prospects available.
Jimmy Gould is a Cincinnati based agent that has represented some well known players over his 20 year career such as Peter Warrick, Frostee Rucker, and Andre Smith. Gould quickly lined up multiple marketing opportunities for Parker having negotiated deals with Adidas, Upper Deck, Panini America, and Leaf. In addition to being a sports agent, Gould is a private equity investor, partner in The Walnut Group, and sits on the board of several companies.