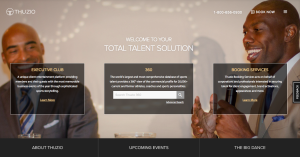 Founded in 2012 by Tiki Barber and Mark Gerson, Thuzio is already beginning to change the celebrity booking business. The company recently launched Thuzio 360, the largest and most comprehensive database of sports talent ever assembled. Thuzio has shown impressive growth since inception and I recently got the chance to speak with CEO, Jared Augustine, and Marketing Manager, Jake Duhaime.
Originally created as a marketplace of talent, Thuzio began as a resource for players, especially retired ones, to find business opportunities. "What we learned in our 1st year is that 90% of our business is corporate," said Augustine. We realized we were heavily involved on the buy side and in 2014 we cemented ourselves as a B2B solution."
"Early on, companies trusted us to broker their talent. We made it very clear who was out there and how much it would cost them. Thuzio 360 came from our own internal database of available athletes," added Augustine. "Now, it's evolved into a complete 360° view of an athlete from the commercial side.
Based on a sophisticated algorithm and highly detailed tagging system, Thuzio 360 can match a celebrity's personal brand to an organization's brand or marketing objectives. The software includes the talent's social metrics, a list of any endorsements the talent has ever done, projected pricing information and a messaging system to contact them (or their agent/business manager) directly.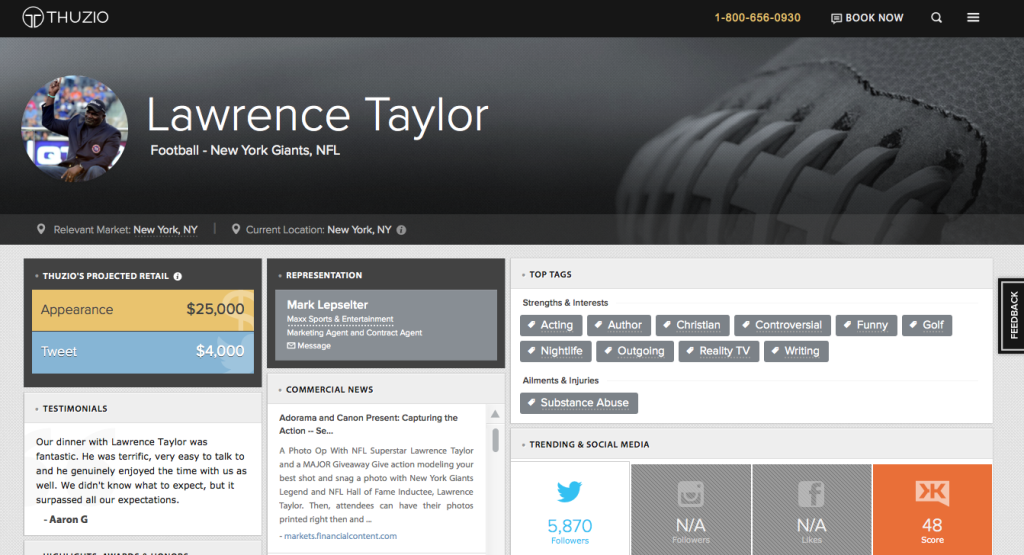 "Our marketplace is now being viewed as a SaaS product," said Duhaime. "Subscribers to Thuzio 360 can now access agents direct to access celebrity talent. In these cases, 360 is simply helping the buyer find the right seller for a direct negotiation, rather than having Thuzio sit in the middle. We're already seeing significant traction resulting in new business finding agents."
Thuzio's two other products, Booking Services and Executive Club, offer a complete talent solution. Thuzio Booking Services is a traditional talent brokerage that acts on behalf of businesses and professionals interested in booking talent.
Similar to Thuzio 360, Thuzio Executive Club is a membership-based service that produces memorable events with legendary athletes. From sophisticated dinners/Q&A's to watch parties at high-end sports bars, TEC is one of the top platforms for client entertainment.
Thuzio's success seems to only be just beginning. In addition to having 26 Fortune 100 clients, they also recently announced a partnership to be the 'exclusive sports and celebrity appearance provider' for AEG and STAPLES Center. AEG will receive preferred access to Thuzio Booking Services and Thuzio Executive Club. Thuzio will undoubtedly be a company to keep an eye on for 2015.