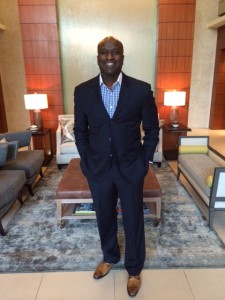 Tory Dandy is a former college football athlete turned NFL agent. Dandy has burst onto the scene since having his first client drafted in the 1st round in 2007. As one of the most successful NFL agents in the game today, Dandy works alongside super agents, such as Ben Dogra and Eugene Parker, at one of the largest sports agencies in the world, Relativity Sports. The following "Six Questions" short interview with Tory Dandy was conducted by our Contributing Writer/Social Media Manager Cameron Chung. Connect with Tory Dandy on Twitter.  
(1) When did you realize that you wanted to pursue a career as a sports agent and what specifically interested you in this career?
I used to play football at South Carolina State and Tusculum College. After having multiple shoulder injuries, I knew that my playing career was coming to an end. When I was obtaining my MBA, one of my good friends was being recruited prior to going to the NFL and allowed me to sit in on his meetings. I ultimately landed an internship with one of the agents from those meetings and have been in the business ever since.
(2) How did you get your start in the agent industry and who was your first client?
My first internship was with Synergy Sports when I was in graduate school. I worked for Synergy for a few years before moving on to work for Eugene Parker at Maximum Sports. My first client was Justin Harrell, defensive tackle from the University of Tennessee, who was drafted 16th overall in 2007.
(3) How does the recruitment process work and how do you decide which athletes you want to recruit?
Obviously, we look at the caliber of the player but we also focus on the character of each athlete as well. I have been blessed to have a legend like Eugene Parker mentor me and teach me the best way to navigate the recruitment process. His clout and network definitely helped me early on in my career.
(4) If there was one thing you could change about the business, what would that be?
In my opinion, the biggest issue right now is the lack of education and help available to athletes in managing their money and planning for their future. Far too many players are still going broke a few years after retirement.
(5) What aspect of your career are you most proud of?
I am most proud of the fact that I get to help so many great young men live out their dreams. It is truly a blessing to be a part of the lives of so many high character individuals.
(6) What advice do you have for young professionals looking to enter the athlete representation business?
My advice would be to do your research and make sure you understand as much as possible about the business before you get in. I highly recommend trying to obtain an internship with an existing agency to get your foot in the door. If it is something you are truly passionate about then you can be successful.