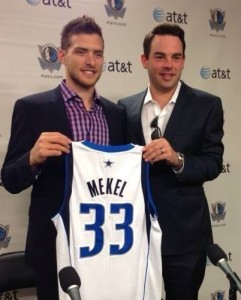 The recent news of Arn Tellem leaving Wasserman Media Group to become Vice Chairman of Palace Sports and Entertainment has made headlines across the sports industry. It is becoming more and more common to see teams hiring agents into one of their front office positions. Samuel Porter, the new Director of Business and Legal Affairs for D.C. United, joins the list of agents making this transition.
Porter began his career in the sports industry while attending New York Law School. "To be honest, I wasn't really planning on working in sports law. I was interested in commercial real estate but I saw a posting for an internship with SportStars on the NYLS sports/media job board," said Porter. That internship ultimately led to a full time job with SportStars after graduation. Porter spent the next 6 years at SportStars helping launch the agency's basketball division.
"When I was just starting out in the agent business, I met Jason Levien, Managing Partner of D.C. United, who was working for the Sacramento Kings at the time. He introduced me to Buddy Baker, CEO of Exclusive Sports Group," said Porter.
That introduction ultimately turned into a job offer for Porter. At Exclusive Sports Group, Sam Porter placed players in leagues all across the world, including the NBA.  During his time at Exclusive Sports Group, Porter maintained a positive relationship with Levien who went on to become part of the ownership at the MLS franchise D.C. United. Now that D.C. United is looking to build a new stadium within the District of Columbia, they have brought in Porter to help with this expansion as the Director of Business and Legal Affairs.
"It's truly an incredible opportunity to learn more and challenge myself. I'm working on ancillary contracts involved with creating the stadium but I'm also involved in all legal aspects regarding any of the business ventures we engage in. Coming from basketball representation, my experience in international player contracts is extremely useful for the MLS," said Porter.
Porter's career is a perfect example of how important networking and relationships are in the sports industry. Porter made it clear that he still has an excellent relationship with Exclusive Sports Group. With D.C. United currently in 1st place in the Eastern conference and with a new stadium on the way, it's certainly an exciting time for Porter to come on board.