Anthony Fields is the Vice President of Basketball Operations at Vanguard Sports Group, a sports agency founded in 2014 by Joby Branion. Fields is a former college point guard who began his college career at Wake Forest University. He transferred from the Demon Deacons and earned a Sports Communication degree at Bradley University and an MA in Sports Management at Liberty University. He still played basketball while earning those degrees.
Fields spent a year as an operations assistant on the Texas A&M Men's Basketball staff before joining Vanguard in 2017. Fields has been integrally involved in the launch of Vanguard's basketball division which began with the signing of Wendell Carter, Jr. (pictured below with Fields), who became the 7th overall draft pick in the NBA in 2018. Anthony's dynamic ideas, vision, and diligence bring a unique value to Vanguard's team. He is originally from Detroit, MI and is currently based in Las Vegas, NV.
Fields's role is not as a recruiter or sports agent, but as an executive in the company. He passionately explained, "One thing I try to show people is that I'm not an agent. Am I qualified to be an agent? Of course, I am, but we aren't taught to believe that we can be executives. So, I've tried to position myself that way and work hard to show other kids that this is attainable. That's the highlight right there. We don't talk about the executive level leadership with the younger generation. I hope to spark that conversation."
Sports Agent Blog interviewed the charismatic and uplifting Anthony Fields about his journey to his current role and what the future holds for him and Vanguard Sports.
Jason Morrin: Vanguard Sports didn't have a basketball division until Anthony Fields arrived. What changed?
Anthony Fields: Our CEO and founder Joby Branion has experience working across multiple sports. He worked under Leigh Steinberg for some time and helped co-found Athletes First before starting Vanguard Sports Group. Vanguard has a pretty strong NFL division with Von Miller of the Denver Broncos, Keenan Allen of the LA Chargers, and DJ Reader of the Cincinnati Bengals. When [Joby and I] met, we discussed getting into basketball.
My experience playing at the grassroots level, collegiately, and having a small stint on a college men's basketball staff exposed me to different resources and information and an abundance of genuine relationships. But this is a totally different business; real-time experience is vitally important. For the first couple months, I worked in [Vanguard's] marketing department, client services, business development, and listened in on recruiting meetings to gather experience. A couple months in, the firm was happy with my progress across different projects, and that led to Joby asking me to help curate our basketball division. The greatest gift in life is for someone to believe in you and that's how this opportunity came about.
JM: What does it mean to you to be the Vice President of Basketball Operations at a prominent sports agency as a 29-year-old black man? What would your younger self think?
AF: It's a blessing and a true honor. My younger self had dreams and aspirations to play in the NBA; the love of the game is something you never lose. Most people have a hard time coming to terms with the fact that the ball will eventually stop bouncing. But at some point, I no longer looked at myself as a basketball player, but rather looked at basketball as a business. My experiences in education allowed me to attract such a great opportunity. There is a lack of African American executives in the industry, aside from agents. So, I hope there are more to come, and that the next generation understands that there are other ways to the NBA.
JM: What does a normal day look like for you during the NBA season, general off-season, and as the draft approaches?
AF: A normal day for me consists of having a cell phone, an iPad, and a laptop. During the season, I spend most of my time going to games, attending to our clients and their families, and doing a lot of traveling. I may be talking to a team of executives to stay engaged, following up on marketing and PR with our teams to execute client sponsorships and endorsements, and conducting philanthropy. So, each day is attributed to making sure tasks are executed and opportunities are created for our clients. And most importantly, I spend time working on the division's growth.
In the offseason, we really like to gather feedback from each of the teams that our guys play for. From there, I create statistical analyses and trajectory plans to tailor-make skill development regiments for each of our players. We want our clients to get better physically and mentally, while working on their brands and being around their family.
During the season, our agents are out recruiting. We gather information on guys that we may want to recruit and evaluate potential prospects that fit our brand. For me, that could be gathering intel from NBA scouts, coaches, executives, or family members. It is an ongoing, day-to-day process. Once our firm signs prospective draft picks, we then work to implement their workout plans, conditioning and nutrition, housing, their daily schedules and, in between, you have the NBA combine, pro-day, and workouts. So, basically, my job is to oversee the entire pre-draft process and be with our guys for the majority of that time.
JM: Your clients are extremely spread out: Kyran Bowman in Los Angeles, Chris Silva in Miami, and Wendell Carter in Chicago. 2020 aside, how do you ensure you maintain meaningful relationships with each?
AF: Genuine relationships matter to me. I've never been someone who had purely transactional relationships, which most agents/agencies have. My clients have both a personal and business relationship with me. I see myself as a part of their individual growth; we learn and grow from one another. I consistently schedule time to see them and their families and we talk almost every day to stay up to date with each other's lives. That will never change.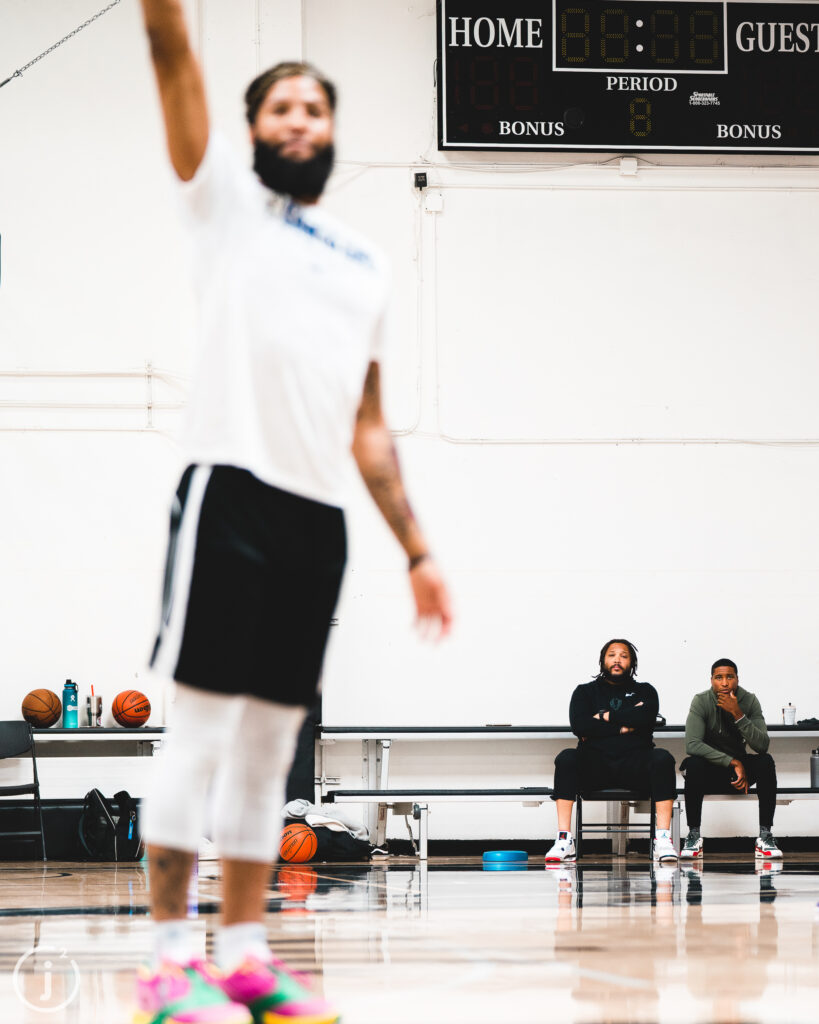 JM: How does your time as a college basketball player help you connect to clients?
AF: In terms of guys coming out of college, I've lived in their world before. I've eaten in the cafeteria, lived in the dorms, gone to study hall, fought through the long practices and gruesome schedule. Most importantly though, I had all of the great experiences. So, with that, we have a ton to talk about and a lot in common. Most of my good friends are college coaches, and at some point, I thought that coaching was my calling. My first job out of graduate school was as an operations assistant at Texas A&M. In this business, there are no handouts. So, information and relationships are vitally important – I relied heavily on that.
JM: How do your services differ when offered to a rookie vs. a veteran?
AF: I call rookies "early adopters." They need more of a hands-on approach, tasks need to be scheduled for them from the start of the day to the end, and we play a large role in helping them become professionals. Their habits often change, and good habits are everything in our world. There are a million things in their heads daily, and all they really want to do is hoop. I try to teach my guys the important of balance, accountability, professionalism, and approach. If you have balance, things can never overload you. If you are accountable for your actions, it is easier to execute and get things done. If you act like a professional, you are less likely to derail your career because there is a protocol for all of the operations of your business. If you approach things the right way, you have a great chance of being successful at whatever it is you do. Some veterans already have those habits and don't need the extra help, but sometimes the rookies do.
JM: This was, by-far, the shortest NBA off-season ever (72 days, compared to the second-shortest offseason of 127 days in 2017). What does that do to the life of an NBA agent?
AF: Our agents did not spend as much time recruiting prospects in the last draft. We spent a lot more time with Wendell Carter Jr., getting him prepared for the season, and the same with Chris Silva and Ky Bowman. So, we spent a lot of time on the lives and daily operations/skill development of our clients. Under these unfortunate circumstances, at the end of the day, there is this stigma that agencies spend a lot of time recruiting, and that's not true. We spend more time making sure that our clients are going to be successful in whatever avenue or side of business it may be. We decided to focus on our current guys.
JM: What is one thing about the NBA that someone outside of the industry might not know?
AF: Because we are talking about different roles and capacities, I will say that an NBA support staff member is an All-Star. [For instance, a Manager of Player Services]. Most people say they want to be a coach or a GM because those are the roles that catch the public eye. But a support staff member in the NBA, they deal with players, coaches, executives, and have so many tasks that are above and beyond just having to do with basketball. For that, I really admire them, and they are not highlighted enough. I don't think people understand what goes into running an NBA franchise.
JM: What is your prediction for the 2021 NBA finals?
AF: I'm always going to root for my clients and hope they reach the finals. We had Chris Silva (pictured with Anthony Fields below) in the Finals last year with the Miami Heat. What I will say is that I was one of the few people who believed that the Miami Heat would make it to the Finals. (JM: so was I). That's an amazing organization, from top to bottom and although I have no favorites, I would not be shocked if the Miami Heat made it back to the NBA Finals this upcoming season.
You can follow Anthony's journey on Instagram, @anthonyfields.