Leland Hardy is far from your typical sports agent. In fact, I had never heard of the extremely impressive innovator and scholar until the gentleman who set me up with B.J. Armstrong for his interview connected Leland and myself for an hour of insightful conversation. Scratch that. I had actually heard of Leland Hardy for one reason: he was associated with Master P's attempt to enter into the sports agent profession with his creation of No Limit Sports. Many people associate Leland's name with Master P's failed attempt in starting a successful sports agency, but the little media coverage of Mr. Hardy has made us all ignorant of the amazing feats that Leland has already accomplished and looks to achieve in the future.
It was probably my toughest interview to this date. Not only was Leland in the midst of recovering his computer from a virus, but I was going through the exact same drama. We are all lucky that my computer was able to save the transcript, and without furthur adieu, here is my interview with entrepreneur extraordinaire, Leland Hardy.
Me: Who do you currently represent in the world of sports & entertainment? What are your future plans in this area?
Leland Hardy: I'm working with "Fast" Eddie Chambers, a 31-1 fighter who was the #1 heavyweight contender for the IBF Championship until January. He was winning a fight until round 6, but ended up losing by decision to 2004 Olympic Gold medalist, Alexander Povetkin after simply being outworked by him. He had a comeback fight in Grand Cayman in June and we won a knockout on Showtime. We are now back in the mix. I'm working on Chambers with the father son Manager/Promoter team of Robert Murray Sr. and Jr., whom I met through [Mohammad] Ali, and with whom I've worked over the years in managing such clients as Bernard 'The Executioner' Hopkins and the late former WBA Super Middleweight Champion, Steve 'Lightnin' Little. Guillermo 'El-Cocodrilo Magnifico' (the magnificent crocodile) Garcia is another client. I have taken the Honduran native off the streets of Harlem when he hadn't so much as ever tried on a boxing glove in his life, and my having guided him as his Trainer and sparring partner to back-to-back New York Daily News Golden Gloves Heavyweight Championships and a year-end USA Boxing national ranking of #7 after only two years is the subject of the soon-to-be-edited documentary. "Ring Dreams." There is great promise for him. I am also working with two young tennis prodigies out of Philadelphia who I think are the best ever. Better than Venus and Serena Williams were at the same age. I have kind-of advised different ballplayers and helped various retirees in different sports avoid the pitfalls of financial mismanagement. My nephew, Andre Fluellen, was just drafted by the Detroit Lions with the 87th overall pick in the third round of the 2008 NFL Draft, so I am putting together all of his marketing and promotional strategies as we speak.
Me: Who is your favorite former athlete client, and why?
Leland Hardy: I would have to say (long pause)…Richard Williams, Venus and Serena's father. I was the family's Business Advisor for 15 years or so, from the time that the grls were 6 and 7 years old, respectively. I went from seeing him working 2 jobs in order to make enough money so that he could teach his kids, to predicting all the things that eventually came to pass. We had a lot of fun along the way. He always kept himself rooted in the community and doing things with people in the area where he grew up.
Me: How did you first start advising the Williams sisters? Which do you think is a better tennis player? Performance aside, which sister is more marketable?
Leland Hardy: Richard had read an article about me in Sports Illustrated and wanted to get with me. Similarly, I had read about him in Sports Illustrated and I wanted to see if I could help him with his improbable pursuit. I was the family Business Advisor, so I negotiated Serena's first contract, when I got her the Puma deal. She hadn't even turned pro yet, and I got her $10 million from Puma when she was ranked less than #100 in the world. I would say that Serena is the better tennis player, because I think she has a bigger heart. I think Venus has more tools. Both have the full package, but Serena is the grittier, tougher of the two. Venus is more marketable…she comes off as less intimidating. I worked with them all the way up until they became adults, but I am not involved as I used to be.
Me: What did you like more: boxing athletes or representing athletes?
Leland Hardy: I like them both, because there was nothing like training for a fight and abstaining from the pleasures of life and then being rewarded with a great performance in which you give the public every penny of value for the hard earned money they spent on the ticket to see you fight. There is nothing that could ever get me to understand how today's heavyweights won't fight to the death when the Heavyweight Championship of the World is on the line and they're behind in a fight. If you want to be a champion, you literally have to be willing to fight for the death and to get up from every knock down. 100% pure, honest competition is a thrill. I loved that. You have absolutely no idea how close I am to comin' back to lace 'em up again in light of today's sad excuses for heavyweights, like Samuel Peter, Klitchko, Ibragimov, a puffed up James Toney, and so many others, all of whom I know I would knock out in 4 or 5 rounds. Fast Eddie, with his incredible hand speed and ring generalship, is the exception. But I also love the aspect of representing athletes, especially when you can help show them the right way. When you help them educationally or professionally, and help them avoid financial ruin a la Mike Tyson, that means a great deal.
Me: You are mostly known in the athlete representation industry as being aligned with Master P's No Limit Sports agency. What was it like working with the guy who "made me say Uhhhh?"
Leland Hardy: P is a visionary and somebody who is passionate about everything he does. A testament to that is when he almost made the final cut with both the Hornets and the Raptors to play ball at the highest level. I was personally crushed when he was cut by the Raptors literally on the final day of pre-season.
Me: What are your feelings on everything that transpired with Ricky Williams after he switched over to Leigh Steinberg? Would you stand behind a client who repeatedly failed drug tests?
Leland Hardy: The things that happened with Ricky are unfortunate. He is a very good person, but he dances to his own tune. Some of the things I wouldn't condone…using marijuana multiple times among them. Fortunately it wasn't a worse drug. He was not motivated by money, he was motivated by achieving greatness. He was fixated on peace of mind…his own tranquility. I would stand by the guy, because I would always try to help him and find help for him. You'll notice that none of those personal tragedies befell him when I was representing him, perhaps because it wasn't only about money for me either. When I was Ricky's agent I spent a lot of personal time with him, talking about and advising him on non-football matters. When you take that out of a kid's life, especially a kid who needs it, the kinds of things that happened to him generally aren't far behind.
Me: Let's talk about your B.I.C.E.P.S. program. I actually dug up an article that I wrote about it back on Feb 22, 2007, where I applauded the fact that 116 players had signed up for it that year. Tell our readers a little bit about the program.
Leland Hardy: I came up with the concept back in 1998 1996. I was born and raised in Philadelphia, and went to school at Central High School of Philadelphia, Indiana University of Pennsylvania (IUP), and Wharton – University of Pennsylvania. I was in a special MBA/MA dual degree program there – the Joseph H. Lauder Institute of Management and International Studies where I was the youngest ever and first ever African-American Fellow, graduating with the class of '86. I was the 1983-84 Pennsylvania State Heavyweight Champion, so when I missed making the 1984 Olympic Team, all the other guys who were at or above my level went on to sports greatness. Many ended up terribly, though. When I saw many of these guys, including Mike Tyson, Meldrick Taylor, Henry Tillman, etc. end up going through tough times, I decided to come up with a concept to help athletes manage their finances. I additionally wanted to bring something back to the table at my alma mater, the Wharton School. It's called B.I.C.E.P.S. – The Business Institute for Continuing Education in Professional Sports. I brought together the top professors, developed the curriculum, and so on, to teach intensive classes on all of the subjects that I knew from experience the audience of pro athletes needed to know, e.g. "How to Read Financial Statements," "Real Estate Fundamentals," "Understanding Investment Fundamentals," and classes like that. Since the start of B.I.C.E.P.S., it has been a phenomenal success. The program has now been expanded to Harvard, Stanford, and the Kellogg School at Northwestern, and it is the official business education program of the NFL and NFLPA. I am about to bring it to another university in New York area, but I cannot disclose which school yet. OK. I'll disclose it. It's Seton Hall University.
Me: Breaking news on SportsAgentBlog.com. Thanks for that. How was it growing up with successful brothers and sisters? Did it make it harder or easier for your development as a successful businessman?
Leland Hardy: It made it easier because I had role models in my own home. I'm the youngest. My next oldest sibling was my brother Gilbert Hardy. He was killed in a scuba diving accident in Morocco. Gilbert went to Yale Law School and was one of the best attorneys in the country. He was U.S. Supreme Court Justice Clarence Thomas's roommate at Holy Cross College in Worcester, MA and at Yale law School, plus he was the best man at Clarence's wedding. My other brother is an accountant who went to Columbia graduate school and is a fairly significant fundraiser for the University of Maryland. My sister is a board certified anesthesiologist and a certified financial planner who is also looking to put athletes on the right track.
Me: You are quoted in an article as basically calling yourself an "average high school student." How did you go from mediocre in high school to a stand-out student in college?
Leland Hardy: I went to a top high school (Central High School of Philadelphia). While I messed around in high school by playing around, playing hookie, playing ball during the day, etc, I had a couple of outstanding talents that kind of kept me there. The American Association of Teachers of Spanish and Portuguese (AATSP) named me the top non-Hispanic Spanish speaker in the country in 1979. I ended up going to Indiana University of Pennsylvania (IUP) and I promised my mom to disregard what I did in high school and that I would do everything I could to focus in college. My focus improved tremendously, along with my boxing skills. I accumulated more undergraduate credits than any other student in the school's history and I was awarded the school's highest honor, the Distinguished Alumnus Award (as was Chad Hurley, the Co-Founder & CEO for YouTube.)
Me: How has your fluency in Spanish helped you as a sports agent and in your other pursuits?
Leland Hardy: It is impressive and allows me to help athletes…especially when we are on the road. I used to teach the Williams' sisters Japanese, Chinese, etc. I used to teach Serena French and when she won the French Open, she addressed the arena with some nice French phrases we had worked on that the fans could understand. Establishing friendships globally. When they were kids I gave each sister an electronic dictionary and it helped them tremendously with their vocabulary.
Me: What language do you enjoy speaking the most?
Leland Hardy: Chinese. I just love the culture. The guy who is working on my computer right now is from Shanghai. He marvels at the development over there. I'm an executive with a company called Hennessee Group (www.HennesseeGroup.com), which publishes the Hennessee Hedge Fund Index. It is the only independent, non-bank affiliated hedge fund index in existence, and is a Registered Investment Advisor. We are expanding business into institutional asset management and also helping the firm grow internationally. The ability to speak Chinese has helped our business tremendously as we position ourselves to advise sovereign wealth funds and similar clients with valuations in the tens and hundreds of billions of dollars. We're also in the midst of opening a new office in Dubai, Hennessee Dubai, with a Dubai-born fellow Wharton school alumnus running things there for us.
Me: How do you feel about this year's Olympics taking place in Beijing?
Leland Hardy: I hope that it gives an opportunity for the world public, particularly governments, to help China realize that there are concerns about the openness of society in China and I hope that the country will address those concerns. I think it is a wonderful opportunity. I was in Beijing with Don King, Evander Holyfield, and the Chinese Olympic Committee when Beijing was selected as the city for this year's Olympics. I think China is a true giant, they deserve getting the games there, and it represents an opportunity for them to become even better by listening to the concerns of the global community on human rights, environmental friendliness, etc. I love China and it's my favorite contry outside of the U.S. Having been involved there since graduating with honors from the Beijing Foreign Languages Institute in 1984 and having heled General Motors set up manufacturing operations throughout the country in the mid '80's, I want part of my legacy to be having helped China realize her full potential, financially and socially.
Me: Out of all the positions you have held, what was your favorite one?
Leland Hardy: Pretty tough. I love the whole opportunity to help people and institutions with their asset/wealth management activities. Acting in the capacity at Hennessee Group is one of my favorite positions. Anything that I can do to help people in my travels and connect people, I enjoy. In addition, I'm on the Board of Sutherland Global services (www.SUTH.com). Sutherland is a 22,000 employee Business Process Outsourcing and IT solutions firm that operates out of six geographic regions around the world and counting, and that services primarily Fortune 50 and Fortune 100 clients. I'm helping the company expand into new markets, including China and the U.S. government sector. I would say that Hennessee Group and Sutherland are my favorite corporate involvements outside of my own personal involvements in technology.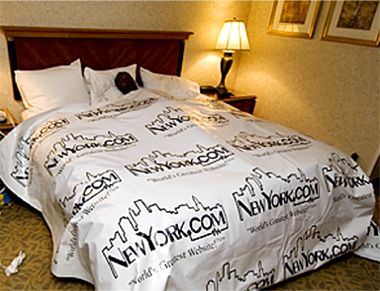 Me: When did you first think about the domain name NewYork.com, and how quick after that did you act to claim the domain?
Leland Hardy: Dale Davis and Damon Stoudemire were angel investors in NewYork.com. I reserved the name back in 1994, long before most people knew what the web was or that it existed. Now we have some groundbreaking new video and advertising delivery technologies that we are going to announce soon on the site.
Me: You own about a thousand other domain names. Any of them popular sports sites? How about sports agent/sports business related?
Leland Hardy: Actually, I have a little more than a few thousand domains. They run the gamut from financial advisory to law to medicine. One of the domains that I own with a friend is Unforgivable.com, for example. I am currently in talks with P. Diddy, who owns the fragrance, Unforgivable, to continue to build the brand. A friend of mine reserved that name, and I am helping maximize its utility. I have a number of sports related names, as well.
Me: With all of your intellectual curiosity, what is the your biggest goal/venture that you would like to achieve in life?
Leland Hardy: I would have to say that my main passion is in developing a major enterprise that promotes education as well as outreach to my people in the motherland (continent of Africa). I just returned from South Africa 2 weeks ago. Cape Town to be exact. I was there for the Warton Global Alumni Forum in Cape Town. I had an opportunity to notice the juxtaposition of profligate wealth against abject poverty. I stayed in the nicest hotel in all of South Africa, which is located directly across the street of a Lamborghini/Rolls Royce/Aston Martin dealership. I can drive 10 minutes from there and be in a town with no plumbing, no electricity, out houses and so on. Wherever I go, people have to worry about where I go, not about me. Ali would go everywhere without a bodyguard because people loved him and he treated everybody well.
I want to build something like B.I.C.E.P.S. that has a connection to my people in Africa. I am connected to a program called Americas Schools, which provides a way to promote environmental friendliness and raise money for education in K-12 schools in the U.S. The Clark County Las Vegas school district is the first district that has signed onto the program (fastest growing school district in the country). We want schools to collect cartridges (ink jet, laser, etc) instead of throwing them away such that they end up in a landfill, contaminating the environment for hundreds of years. We take those cartridges and recycle and sell them to recyclers. Of the money we get, 55% goes to the schools who collected for us, the other 45% goes to us and to development of new school programs. We just developed the first environmental curriculum in Clark County. The Africa tie in is that one of our partners is Thula Thula, which is the former private hunting ground of the King of the Zulu Nation. It is run by a noted environmentalist by the name of Lawrence Anthony (aka the Elephant Whisperer). He additionally has a foundation called The Earth Organization. Black Zulu school children are now getting computers through the relationship and are now able to communicate with their peers at Las Vegas area sister schools in Henderson, NV. I hope to do everything that I can to continue to provide equipment and knowledge to African children.
An Outside the Lines YouTube video featuring Leland Hardy:
Update: In an effort to clear up some of the concerns about the contract that he negotiated for Ricky Williams, Leland Hardy has been gracious enough to respond to my follow-up question regarding this matter. Please see below.
Me: The contract that you negotiated for Ricky Williams when you ran No Limit Sports for Master P was groundbreaking and caused you and it to be the subject of a lot of negative commentary from the media and rivals in the industry. What was the deal with that?
Leland Hardy: Well, you know that when you arrive on the scene with the splash and the panache that we did, we wouldn't be welcomed by an "old guard" who had been running things, with the usual suspect agents expected to land the highest profile, best kids in the Draft, let alone represent a Heisman Trophy Winner, the overall best player in college football, as I did. The agent community was used to shooting fish in a barrel by having kids whom they would otherwise be deathly afraid to walk on the same side of the street as, and whose wives would clutch their pocketbooks if they saw them approaching, aspire to be represented by them. What happened was that the established sports agent community had to come up with some kind of way to derail me and us by any means necessary. So they devised a strategy, working with their entrenched longtime sports media journalists and talking heads around the country, to launch a disinformation campaign, not unlike what was done against Martin Luther King and other civil rights leaders during the 60's. In that connection, the media floated stories and had callers calling in to sports talk radio stations around the country saying "Can you believe it, Leland Hardy and No Limit negotiated a contract for the Heisman Trophy Winner that has him playing for league minimum salary. It's a disgrace! What the hell are these rookie agents doing ruining a kid's career like that?" Unfortunately, the very gullible lay public didn't, and largely still doesn't know, that when a rookie player receives the maximum number of dollars that can possibly be negotiated for him in the form of his signing bonus, he automatically, by definition, will receive the league minimum salary based on the rules of the NFL's Collective Bargaining Agreement. So you had millions of fans around the country, and unsophisticated, unknowing local reporters jumping in the band wagon to influence those fans by saying that Ricky received a bad contract. The fact of the matter is that I got Ricky a then record for his draft slot $8.84 million signing bonus, which, with the most conservative financial planning, should mean that he would never have to work another day in his life should he suffer an injury or worse. Moreover, and this is a part of this historic story that few know, I actually negotiated a second contract for Ricky that I and even New Orleans Saints management begged him to sign. This second contract called for Ricky's entire contract to be guaranteed. He would have received a far smaller signing bonus than the record setting one I negotiated for him, but he would have had large annual salaries, all of which would have increased year to year and would have been guaranteed throughout all years of the Agreement. At the time, only a few NFL contracts in history had ever been done that way, but since then, agents have followed my lead and more and more of them have sought to structure theirs in that way, despite talking out of the other side of their mouths to discredit Ricky's deal.
What I'm in the midst of compiling as we speak and will soon publish is a white paper on the current financial status of professional athletes on a per agent basis. I'm going to expose the home foreclosures, bankruptcy filings, and related ills of players on a per agent basis so that the American public and, more importantly, players themselves, can see how players are discarded like so many worthless carcasses after commissions are earned and they are thereafter of no value to the agents that they aspired to be represented by. Maybe that will be Part II of my interview on SportsAgentBlog.com!