The following interview was conducted by Matthew Hochberg (@thebigHoch_). Matthew Hochberg will be attending Ithaca College in the Fall, studying Sport Management. The subject of the interview is Pedro Power. After three years of playing professional soccer, Mr. Power became a sports agent and is currently the Vice President of TXB Basketball.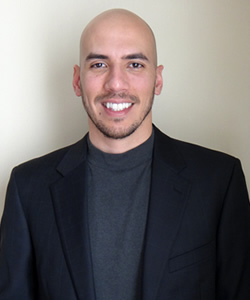 Matthew Hochberg: What made you want to become a sports agent?
Pedro Power: It was always a goal of mine to become a sports agent.  It was something I always wanted to do after I was done playing professional soccer.  Basketball was a sport I followed more than soccer, but for some odd reason soccer was one that I played a lot more than basketball.  I guess it worked out, because I made a career out of both sports.
Matthew Hochberg: Why was your professional soccer career cut short? Do you ever think about an attempt at a comeback?
Pedro Power: I had a chronic groin injury that would always come back when I would train rigorously on an everyday basis.  It's something that I dealt with since college and it was a come-and-go type of injury that started to get to me.  I don't think so much of a comeback, but I do play from time to time to keep myself in shape.
Matthew Hochberg: What impact did attending Slippery Rock University have on you to become a sports agent?
Pedro Power: Initially I committed to Slippery Rock University, following my ultimate dream to become a Professional Soccer Player.  I received a full scholarship to play soccer and studied International Business.  SRU played an impact, because it taught me how to conduct business in other countries, which I apply when I sign players overseas.  Slippery Rock also has a great tradition of Sports.
Matthew Hochberg: Do you feel playing three years of professional soccer gives you an edge when dealing with athletes?
Pedro Power: Absolutely.  I can relate to an athlete a lot more than the average person can.  Even though it's a different sport, we all go through the same process in choosing an agent, and different things we have to overcome as athletes.
Matthew Hochberg: Who was your first client, and how did you recruit him?
Pedro Power: My first client was a Center from the University of Iowa.  His name is Seth Gorney.  I recruited Seth knowing the big demand there was for big man overseas, so I went with someone like Seth who was 7'0 that I knew I had a pretty good chance in placing on a team.  I sent Seth an email, introducing myself and telling him a little bit about myself.  I remember him replying to me letting me know that he was interested and to keep in touch after the season.  Once the season was over we kept in touch, and I signed him.  Always appreciative to Seth for giving me a chance to break into this business.
Matthew Hochberg: How did you handle your first contract negotiation?
Pedro Power: I was pretty confident when I negotiated my first contract.  It was pretty simple and it came natural to me.  It felt like something I have been doing for a long time.  I was actually sending one of my players overseas and the GM of the team was very cooperative with the process.
Matthew Hochberg: How did you become Vice President of TXB Basketball?
Pedro Power: I had a vision to offer our clients way more than just the representation aspect.  I wanted to be able to provide a marketing service that will literally go out of the way to get Marketing Deals for our clients at a International Level.  So what better than to get two large International Players together that specialize with top International Athletes and are experienced in large marketing deals?  We formed a Joint Venture between Traffic Sports and XYZ Live Sports, two of the largest sports marketing firms in the world.  We came together to create TXB.  XYZ Live was created from the merger of leading entertainment and sports companies in the beginning of 2011. XYZ Live differentiates itself in the market by combining its business force in sports and the offer of a full strategy package for its clients. The company unites great talents and brings its experience of creating the most important events in entertainment, sports, soccer, fashion, and culture. Traffic Sports has been an active player in sports marketing for 30 years and offers communication solutions that add value to its clients' and partners' brands in sports events and other media and entertainment actions.  As a leader in the segment in Latin America, Traffic goes beyond the continental borders in promoting and marketing sports events.
Matthew Hochberg: Who are some clients you currently represent?
Pedro Power: Bernard Robinson, Benzor Simmons, Steven Toyloy, Ronnie Moss, Hamidu Rahman, Dago Pena, Ruben Cotto, Andres Ortiz, Paul Crosby, and Francisco Cruz.
Matthew Hochberg: What is the most important aspect of being a sports agent?
Pedro Power: To be able to provide for our clients.  We have a vision to provide a service, that reaches far beyond the basketball court.  All of our players have a personal relationship with me that we've developed through time.  Helping a client reach his goals is something we are dedicated in providing.  We cater a strict plan for each and every client and accomplish sub-goals to accomplish the ultimate goal.  We are an open book agency, where we have our clients come to us and express themselves about anything they need.  We are happy in keeping our clients happy.
Matthew Hochberg: What is the best part of being a sports agent?
Pedro Power: I love being hands on with the daily operations of being a sports agent.  I like feeling connected to the game, I enjoy attending basketball games and watching existing clients and players I'm recruiting play.  I enjoy travelling, and being able to see different parts of the world I never have experienced before, the entire recruiting process, interacting with families, advisors, coaches etc.  is truly, for me, the best part of being an agent.  And not to mention, helping young athletes accomplish their goals of becoming professional athletes is very satisfying for me as an agent as well.
Matthew Hochberg: What has been your most embarrassing moment as a sports agent?
Pedro Power: I really can't recall a particular moment that I can say was embarrassing.  I think all of us (Agents) go through similar mistakes along the way which we learn from and move forward, which is part of the business.  As soon as something embarrassing happens moving forward after this interview, I will make sure to pay more attention to it, and to let you know.
Matthew Hochberg: What are your future goals in regards to the sports agent industry?
Pedro Power: My main goal is to be highly recognized in this Business.  I believe with my hard work and dedication, it's only a matter of time until it happens. Also to have the opportunity to work in the field of Sports, something I have a passion for, is a blessing within itself.
Matthew Hochberg: What advice do you have for those looking to break into the industry?
Pedro Power: The most important aspect in this business is networking and getting an opportunity to intern with someone who is already in the business.  Be persistent, learn how to deal with lots of problems, and multitask very efficiently.
Matthew Hochberg: Does your agency offer internships for those looking to break into the industry?
Pedro Power: Yes, we do.  We always look for potential young interns that can help TXB.
Matthew Hochberg: On behalf of SportsAgentBlog.com, I would like to thank Mr. Power for sharing his knowledge and experiences with us. You can check out his website at http://txbbasketball.com/ and follow him on Twitter @PPower20.