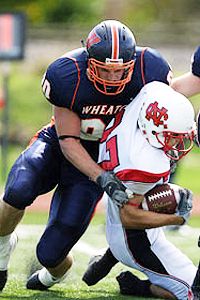 Didn't go to a big Division I school? Haven't had the chance to put up big numbers on the field? Maybe you just have not had the opportunity to be seen by the right scouts, but have a lot of potential at the next level. Do not fret. A few years ago, you might have been out of luck. In today's web 2.0 world, though, you and your agent may be still be able to impress a team enough to draft you.
Don't believe me? Check out Andy Studebaker, who played at a DIII school and was injured at the end of his senior season, but still got drafted this summer by the Philadelphia Eagles. His first thank-you card should go to Google for its YouTube product. Here is a quote from his agent:
"It would be a complete fabrication to say the YouTube videos had any role in exposing Andy to NFL teams, because all 32 teams knew exactly who he was. But I do think it was a tipping factor at the end."
To think that YouTube had any role in Andy's eventual selection is a revolutionary thought. It is hope for those out there who think in a Sports Agency 2.0 mind-frame. As an agent, you must always think outside of the box, and if that means putting your client's highlight reel on YouTube, then you better be doing just that.
"Teams were already in their [draft] meetings, and many of them asked [for the tape] to be overnighted to them," Wright said. "I said, 'I'm just going to post it on YouTube and you can see it right away.' They said, 'Cool.' So we shot out the link to everybody within an hour of the workout being over."
Next, a player will find out that he is drafted by a team because its GM posts the news on his Facebook wall..