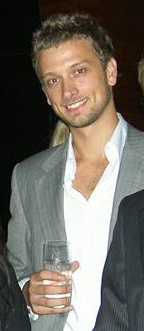 If someone, a psychic friend perhaps, had sat me down at the end of 2007 and said to me: "Toby by the end of 2008 you will have worked for the Beijing Olympic Committee and will be selling the sponsorship rights for the National Stadium (Bird's Nest) and National Aquatic Center (Water Cube) of China" I would be inclined to tell them to seek serious help and keep taking their medication etc. However, after one of the most eventful years for China and Chinese sports, I find myself looking back on what was a memorable 2008.
I had always dreamed of being involved, somehow, in the Olympic Games and on hearing the news in 2005 that my home country had secured the 2012 Games, I found myself forging ahead with making that dream a reality. First, I had to gain some Olympic experience, and being the less than proud owner of a 15.2 second 100m PB time and realizing doggy-paddle was the only stroke I can reasonably swim, I decided it must be work experience and not athletic prowess that gets me there. First stop: Beijing.
I found myself at Beijing Capital Airport, having quit my job in Tokyo, Japan and found some part-time work in Beijing teaching English. I set about searching for any opening possible in the organization for the Games and any links to the Chinese sports industry. I should also note at this stage I had never been to China before and knew approximately 4 words of Chinese (of course the bad ones. Always the bad ones first, right?) The opening came online in the form of a Volunteer Trainer position opening for the Olympic Committee. This was a low-paid, 7-day a week position, training the Chinese students in languages, security, first-aid, and basically how to deal with stressed foreigners and lost 4 year-olds. It did turn out to be a great experience with highly motivated volunteers and staff, but most importantly it got my foot in the door.
The foot in the door cliché is overused, I know, however looking back, I cannot stress how important that was for me, coming into the industry with only a Sports Degree from the University of Southampton in the UK and a few years teaching in Japan, the old CV was not looking so impressive. Doing the volunteer training camps enabled me to meet the right people at the right time and connect with decision makers and gate keepers. I made business cards, networked with the other trainers, the trainer's bosses in the Olympic Committee and of course the volunteers. It was one of the volunteers who worked in a sports marketing agency that brought me the break I had been looking for.
Again, part-time was the way in. Working part-time or doing an internship is a great way to get your foot in the door (there I go with the cliché again I hear you cry). I wouldn't be saying it if it didn't work time and time again. I then began working part-time at Prescient Group, a small (20 employees) sports agency in Beijing. The work environment was tough, being the only foreigner in the company and with only basic Chinese, I was immediately dropped in at the deep-end as I moved to full-time and given the job title of Sales and Business Development Specialist. My job suddenly involved stadium naming rights negotiations, team and athlete representation, sponsorship sales, event planning and marketing…also liaising with our partner agency in New York. I had to learn fast and although on-the-job training is the best way for this, I was a little shocked at how much responsibility they put on my shoulders in the first few months: "First we see if u can swim in the river" my boss told me looking me right in the eye, "if we see you do not drown and you keep your head up we will help you, but if we see you cannot swim, we will let you go".
I quickly became aware that in China, on many levels of society, but in business especially, they never look back. They never complain or moan and if a problem or obstacle arises they rarely debate or argue over what to do, they just do something, and if it doesn't work out they simply change it and move on. There is rarely any fuss, rarely any procrastination and always action. If you can't keep up you are left behind…to drown I guess. Lucky I'm so adept at doggy paddle I thought to myself. It is brutal, but given China's current economic clout and speed of development, this philosophy seems to be working. This is a country of 1.3billion people that didn't know what sponsorship was 20 years ago. So I began adapting and learning how to swim with the rest of them.
On the 8th day of the 8th month at 8 minutes past 8 everything came alive. The Olympics brought China a new dawn. People around the world sat up during that Opening Ceremony and watched in awe as the Chinese put on a show that none of us can forget. The Games lived up to the hype too, with broken world records galore, stories of heroism, redemption, tears, passion, politics and joy. Just what the Olympics have always and will always be about. The China medal machine worked perfectly, churning out more golds than they ever could have imagined and the Chinese people who I talked to during the Games and around Beijing this year were truly proud to be a part of everything Olympic.
For the Chinese sports industry it was a turning point too. In terms of knowledge, the Chinese people now had first hand experience of how worldwide sponsors activate, how global superstars were marketed, how huge events came to fruition and what the Olympic spirit was all about. In terms of lessons learned, it was one of the best. Now Chinese consumers demand more and expect more, they are more intelligent when it comes to brands and now sports sponsorships in China, following the models from the US and Europe. Chinese businesses are no longer about slapping a logo on an event or sports star and hoping for the best.
The number of sports agents in China is increasing at a rapid rate, the number of sports marketing agencies is rapidly flooding the market and the amount of control and say the federations get is beginning to decline as the industry becomes more and more commercialized. China's time is coming and the big leagues and associations such as the NBA, the NFL, the MLB, the English Premier League are already jumping on the bandwagon. The opportunities continue to rise, so grab you phrasebooks everyone, 2008 was a good year for the China sports industry, 2009, 2010, 11, 12 promise to be even more fruitful. My psychic friend said so.