…if you live in the United States.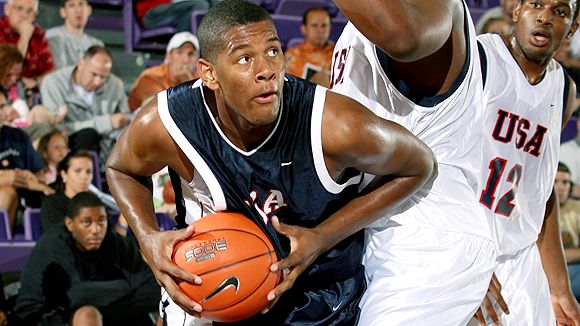 Over the past week, as I studied non-stop for my 2L Spring Finals, took the actual finals (including one that lasted 24-hours), and sweat through the NFL Draft, one name kept popping up in my inbox: Jeremy Tyler.  Before a few days ago, I had never heard of the kid.  Suddenly, Tyler is one of the hottest topics in the world of sports business.  The buzz surrounding Tyler seems to have begun with a piece by one of my favorite columnists, Dan Wetzel.  The first two lines tell the story.
Jeremy Tyler has decided to forgo his senior year of high school and turn pro.
Yes, high school.
Wetzel calls the move daring and trailblazing.  It is undoubtedly daring, but the trail has already been blazed by Brandon Jennings with the help of Sonny Vaccaro.  Not surprisingly, Vaccaro is behind Tyler's decision as well.
If you think college is a shock to someone who has grown up with his parents doing the laundry and cooking dinner, jumping overseas alone would have the potential of seriously threatening a young kid's psyche.  Fortunately for Tyler, his father and uncle will switch off staying with him.
While the NBA is discussing raising the age limit, people like Jennings and Tyler are going overseas to play.  The age limit doesn't help the NBA and it will end up not being of aid to the NCAA either.  If Tyler is NBA ready right now, which NBA scouts have said he is, why not let the kid play professionally in America?  The best part about this entire action by Tyler is that at the heart, it is not about the money.  Tyler does not need money desperately, what he needs so badly is a higher level of competition.  The NBA can provide that, the league just merely won't.
And surprise, surprise.  There have been agents trying to pay Tyler off to keep him in the states.
Six months ago, a runner for a sports agency based on the East Coast called James Tyler, the father of 6-foot-11 high school basketball star Jeremy Tyler, with an offer to "take the pressure off" of the Tyler family.
The Tylers would incur a lot of expenses when Jeremy ultimately enrolled at Louisville, James Tyler recalls the runner saying, and he offered to pay for flights, hotels and more. James declined the offer in a later phone call, to which the runner allegedly countered with a more direct overture:
"James, name your price?"
I'm glad that the Tylers were smart enough to ignore the runner's offer and choose a path based on what they believe is right for Jeremy.  If that be overseas instead of college, then so be it.  You have my support!