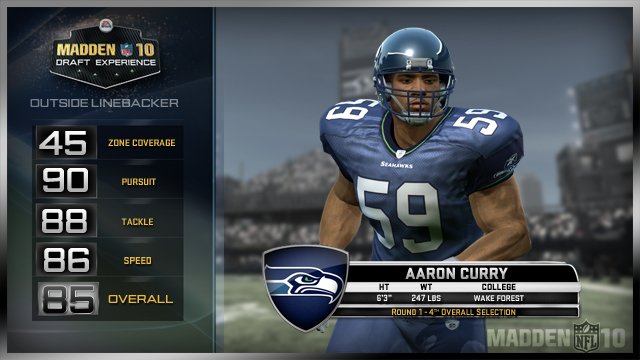 Rookie holdouts are nothing new to the sports world. Every year we see a few or more rookies being advised by their agent/advisor to hold out of camp until a fair contract is signed. Before I jump to support any side, I'd like to present some important points-of-view.
From the athlete side: Professional sports are not just a game, but a business, too. Just like a worker wants his fair pay before starting a new job, so too does the athlete.
From the team/fans side: Although it is a business as well as a game, holding out of camp will pose a threat to the success of the athlete's career; it will be like starting school late and missing tons of work and valuable information.
USA Today posted a great article about all of the remaining rookie holdouts and how their absence hurts them and the team. Here are those players:
Aaron Curry, LB, Seattle Seahawks (4th overall pick)
Andre Smith, T, Cincinnati Bengals (6th overall pick)
Eugene Monroe, T, Jacksonville Jaguars (8th overall pick)
B.J. Raji, DL, Green Bay Packers (9th overall pick)
Michael Crabtree, WR, San Francisco 49ers (10th overall pick)
Aaron Maybin, DE, Buffalo Bills (11th overall pick)
Malcolm Jenkins, DB, New Orleans Saints (14th overall pick)
As we have all seen in the past, some "holdout" rookies have had tougher times getting starting jobs, playing to their best ability, and overall adapting to the fast-paced National Football League.
JaMarcus Russell, one of the most hyped quarterbacks in recent years, was drafted 1st overall and has only played 19 games in his three year professional career. (Russell held out)
Brady Quinn was drafted in the first round of his draft and has only played in 4 games in his three years in the NFL. (Quinn held out)
Matt Ryan was drafted 3rd overall in the '08 NFL Draft and DID NOT hold out. He started 16 games in 2008 and has become one of the most successful quarterbacks in the NFL.
Joe Flacco was drafted 18th overall in '08 and DID NOT hold out. Flacco also started 16 games in 2008 and has given the Baltimore Ravens great success on the field.
Now, I ask the players: Is taking a risk of not starting at all or being sub-par worth the money? Yes, you will be getting paid a lot of money to sit on the bench, but it will hit you in 5-6 years when your rookie contract is up and it is time to sign a new one. You will not be seeing those same dollars.