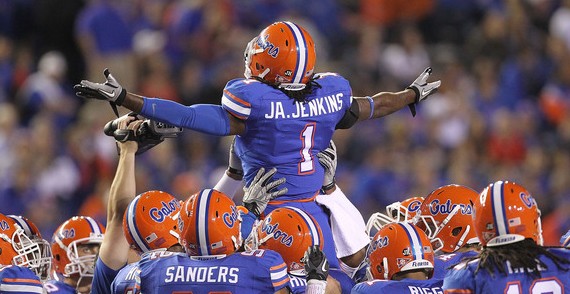 There has not been a player selected in the first 2 rounds of the NFL Supplemental Draft since 2003.  But there also has not been a player with the skill set of Janoris Jenkins available for an NFL franchise to select in the past 8 years.
Earlier today, Coach Will Muschamp of the Florida Gators announced that Jenkins would be moving ahead to the next stage of his career, which meant that Jenkins' time as a member of the Gators football team had come to a close.  While the news could not have come easy to Jenkins, it allows the extremely talented player to showcase his skills immediately at the next level.  As long as there is a Supplemental Draft this year (which usually occurs in July), it will be wise for Jenkins to enter his name into the pool of available players.  If there is no Supplemental Draft, Jenkins will be smart to enroll at a Division I-AA school instead of transferring to a FBS school (where he would have to sit out a year).
Janoris Jenkins is a first-team All-SEC selection.  He was named to College Football News and Sporting News? Freshman All-American team.  Rivals.com ranked Jenkins as the 6th best cornerback of his class coming out of high school, and he only improved upon that ranking while at the University of Florida.  On November 10, 2010, Todd McShay predicted that Jenkins would be selected at #15 overall in the 2011 NFL Draft, ahead of Mark Ingram, Nick Fairley, and Julio Jones. This was prior to Jenkins expressing his intentions to return to Florida for one last season.  No one has said a word about Jenkins' having performance issues.  Does being charged with misdemeanor marijuana possession 4 days ago really drop his stock to anything below a 2nd round Supplemental Draft pick?  Any team with a need at cornerback is crazy to pass up that kind of talent in the 2nd round.
Jenkins is supposedly already in the process of selecting an agent to help him with the Supplemental Draft.  He will need an advisor who is going to tell him what he needs to hear, and not necessarily what he wants to hear.  As long as he understands that the tough love is what will allow him to get to and excel at the next level, I have faith that Jenkins has a bright future ahead of him.  Further, I think the newest pride of Pahokee, Florida needs to select an agent who has strong ties to people who can help him show his compassionate side and do some good off the field of play.  This will lessen the focus on previous arrests.
A total of 40 players have been taken in the Supplemental Draft since its creation in 1977.  Big name players such as Bernie Kosar, Brian Bosworth, and Cris Carter found their spots in the NFL this way.  If given the opportunity, I believe Jenkins will do the same, and will have a very successful NFL career.