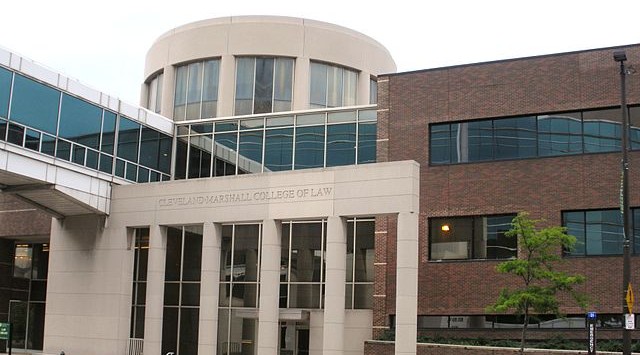 What: Cleveland-Marshall College of Law's 2nd Annual Entertainment and Sports Law Association Symposium – Cleveland and the Three Major Leagues: How the Recently Agreed NFL, NBA and MLB Collective Bargaining Agreements Will Help (or Hurt) Our Hometown Teams Win a Championship
When: Friday, April 13, 2010 (12:00 p.m. – 5:00 p.m.)
Where: 1801 Euclid Ave, Cleveland, Ohio 44115 (Moot Court Room) (map)
Schedule
12:00 PM – 12:30 PM: Registration
12:30 PM – 1:45 PM: Cleveland Browns / NFL Panel
The Cleveland Browns / NFL Panel will discuss the impact of the 2011 NFL Lockout and the recently completed NFL CBA on the Cleveland Browns, as well as other teams in the NFL.  The discussion will particularly focus on the legal remedies sought by the players during the lockout and the impact of the recent court decisions on the bargaining relationship between owners and players during the CBA negotiations.
Moderator: Peter A. Carfagna, Esq., Executive in Residence, Cleveland-Marshall College of Law
Peter A. Carfagna is Chairman/CEO of Magis, LLC, a privately owned sports marketing, management and investment company, including family ownership of the Lake County Captains, Cleveland Indians Class A Affiliate.  From 1994-2005, Peter served as Chief Legal Officer & General Counsel of International Management Group (IMG) and was Senior Partner at Jones Day LLP before that.
Peter graduated summa cum laude and Phi Beta Kappa from Harvard College in 1975, having played Varsity Football 1972-1975.  Peter was then a Rhodes Scholar at Oxford, graduating M.A. with Honours in Jurisprudence/Law in 1977.
Since being appointed by then-Dean Elena Kagan as the Covington Burling Distinguished Visitor in 2006, Peter has alternated teaching 3 Sports Law Courses at Harvard Law School, each of which has been published as a casebook: Representing the Professional Athlete (West 2009); Examining The Legal Evolution of  America's 3 'Major Leagues' (2d. Ed. West 2011); and Negotiating and Drafting Sports Venue Agreements (West 2010).  He is Faculty Advisor to Harvard Law School's Committee on Sports and Entertainment Law and its Journal on Sports and Entertainment Law.  He is also Faculty Supervisor of Harvard Law School's Sports Law Clinical Program, responsible for 10-12 sports law clinicals each school year with the NFL, MLB, Boston Celtics, Boston Red Sox, Cleveland Browns, Seattle Mariners, Florida Marlins, and IMG among others.
Peter has served as Distinguished Visiting Practitioner at Case Western Reserve University Law School and as Executive in Residence at Cleveland Marshall College of Law from 2011 to the present.
Peter serves the Harvard Alumni Association as a Member of the Nominating Committee for the Harvard University Board of Overseers.  He is a past elected Director of both the HAA Worldwide Executive Committee and the American Association of Rhodes Scholars.  Peter currently serves on the Great Lakes Regional Selection Committee for the Rhodes Scholarship, as well as on the Board of the Sports Legacy Institute and the Ladies Professional Golf Association.
Peter and his wife Rita, and their 4 adult children, reside in the Cleveland, Ohio area.
Neil Cornrich, NC Sports, LLC – Founder & Owner, NFL Agent
Neil Cornrich, founder and owner of NC Sports, LLC, manages the careers of professionals in the sports industry. A graduate of The University of Michigan and The Ohio State University College of Law, Neil represents numerous high profile NFL players and first-round draft selections, including Phil Dawson, the only franchise player in Cleveland Browns' history; Dallas Clark, All-Pro tight end; Ted Ginn, Jr., the ninth overall selection in the 2007 NFL Draft; Robert Smith, current ESPN analyst and the Minnesota Vikings' all-time leading rusher; and Riley Reiff, projected top ten selection in the upcoming 2012 NFL Draft.
In addition, Neil has the distinction of being regularly selected to represent not only athletes, but also coaches and management. Some of his clients include Bill Belichick, Head Coach of the New England Patriots; Bob Stoops, Head Coach of the Oklahoma Sooners; and Kirk Ferentz, Head Coach of the Iowa Hawkeyes.
A member of The Ohio and Florida Bar Associations, Neil lectures on a variety of sports management topics throughout the country. He frequently serves as an expert in his field, appearing in the national media from Sports Illustrated and USA Today to ESPN and CNN, and speaking at colleges and universities such as Harvard Law School
Andy Simms, PlayersRep Sports Management – Co-Founder, NFL Agent
Andy Simms is the co-founder and President of PlayersRep Sports based in Cleveland, Ohio.  Andy started his career as a sports agent while attending law school at Case Western Reserve University school of Law, where he graduated in 1999.  He attended Indiana University, and graduated there in 1996 with a degree in business.
Andy oversees all operations at PlayersRep including contract negotiations, marketing, and off the field services for clients.  He also oversees 4 other agents at PlayersRep.
Andy's signed his first clients in 1997 and his first football clients were drafted in 1999 while he was in law school.  PlayersRep now represents over 30 active NFL clients.
A member of the Ohio Bar Association, Andy regularly appears on ESPN and NFL Radio to discuss issues in the field of athlete representation and collective bargaining issues.
1:45 PM – 2:00 PM: Break
2:00 PM – 3:15 PM: Cleveland Indians / MLB Panel
The Cleveland Indians / MLB Panel will discuss the recently completed MLB CBA and how the changes that were implemented in the most recent agreement may help or hurt the Cleveland Indians.  The panel will also address the CBA's impact on the League as a whole.
Moderator: L. James Juliano, Jr., Nicola, Gudbranson & Cooper, LLC – Member, Management Committee
Jim Juliano provides general counsel services to sports and entertainment clients as well as other businesses, organizations, public entities and individuals. His practice areas include sports and entertainment law, business transactions, buy/sell agreements, litigation, labor and employment issues and real estate matters.
Jim has written articles and spoken around the country on ballpark liability and other sports law topics.
His sports law experience includes negotiating purchases and sales of minor league baseball teams; negotiating ballpark leases, naming rights and sponsorship agreements; advising in connection with ballpark construction; and establishing operating and ownership entities for minor league baseball teams. 
He is the author of Legally Speaking®, a newsletter for sports executives. His sports law website is at www.legallyspeakingonline.com.
Jim is a member of the law firm of Nicola, Gudbranson & Cooper, LLC, in Cleveland. He earned his bachelor's and law degrees from Case Western Reserve University. He is a member of the American, Federal, Ohio State, New York State and Cleveland Metropolitan bar associations as well as the Sports Lawyers Association.
Peter A. Carfagna, Esq., Executive in Residence, Cleveland-Marshall College of Law
Biography listed above
David Stearns, Director, Baseball Operations: Contracts, Strategy & Analysis, Cleveland Indians
David Stearns was named Director of Baseball Operations for the Cleveland Indians in December of 2011.  As Director of Baseball Operations, David assists General Manager Chris Antonetti and Assistant General Manager Mike Chernoff in all baseball operations and Major League roster matters.  Primarily, David's responsibilities focus on contract negotiations, roster and player analysis, and team strategy.  Prior to joining the Indians, David served as the Manager of the Labor Relations Department for Major League Baseball's Office of the Commissioner.  In that capacity, David advised Major League Clubs on contract issues and was a member of MLB's negotiating team for the recently completed Collective Bargaining Agreement.  David has also spent time in the baseball operations departments of the New York Mets, Pittsburgh Pirates, and Arizona Fall League.  David is a 2007 graduate of Harvard University.
Brad Seymour, Vice President & General Manager, Lake County Captains
Brad serves as Vice President and General Manager of the Lake County Captains, as well as Senior Vice President of the Lancaster (CA) JetHawks. 2012 marks his fourth season with the Captains, following five seasons as General Manager of the Lancaster franchise. Brad has 18 seasons of experience working in professional baseball during his career, which began in 1995 with the San Jose Giants (A-San Francisco) of the California League.
Brad's tenure in Lake County has included several highlights and accomplishments, including increased revenues and improved profitability during each year.  The Captains have also improved working relationships with the City of Eastlake in the management of Classic Park, which has led to several major concerts and non-baseball events scheduled in the state-of-the-art facility.  In 2010, following a memorable Midwest League Championship, the franchise's first-ever league championship, Brad spearheaded the successful re-branding of the team identity and logos, the first major changes to the team's image in its history.
The Morgan Hill, CA native spent nine seasons with the Sioux Falls (SD) Canaries of the independent Northern League and was named the Sioux Falls General Manager and spent two years in that post in 2002 – 2003, guiding all of the organization's business and baseball operations.  During his time in Sioux Falls, Brad worked closely with former Cleveland Indians Manager Doc Edwards in the development of the team's roster.
During his time with the JetHawks in 2004 – 2008, Brad successfully grew the JetHawks brand throughout the Antelope Valley and improved profitability for the company via increased revenues, including the sale of stadium naming rights to Clear Channel Radio and the successful negotiation of the first major capital improvement project to the ten-year-old facility (new video board installation) in 2006.  The franchise was an affiliate of the Arizona Diamondbacks for the first three seasons of Brad's tenure. As an affiliate of the Boston Red Sox in 2007 and 2008, the team won four straight Southern Division half titles and Lancaster was proud to be a part of its second World Championship when Boston won the 2007 World Series.  The club is currently in its fourth year as an affiliate of the Houston Astros.
Brad is married to Michelle and they have two children, Brandon and Ashley and reside in Twinsburg, OH.
3:15 PM – 3:30 PM: Break
3:30 PM – 5:00 PM: Cleveland Cavaliers / NBA Panel
The Cleveland Cavaliers / NBA Panel will discuss the impact of the 2011 NBA Lockout and the recently completed CBA on the Cleveland Cavaliers, as well as other teams in the NBA.  In particular, the discussion will focus on the negotiations between the players and owners that led to the agreement, as well as how a similar situation in the NFL affected the NBA players' and owners' decisions during the bargaining process.
Moderator: Peter A. Carfagna, Esq., Executive in Residence, Cleveland-Marshall College of Law
Biography listed above
Jason Hillman, General Counsel, Cleveland Cavaliers
Jason Hillman joined the Cleveland Cavaliers as Company Counsel in the fall of 2005, and was promoted to General Counsel in the summer of 2008 before adding the title of Vice President in 2011.  He has primary responsibility for the organization's business legal matters, including marketing and sponsorship, employment, television and radio, and arena matters at Quicken Loans Arena.  In addition, Mr. Hillman has assumed primary responsibility for legal matters relating to the Lake Erie Monsters, the AHL hockey team that began play at Quicken Loans Arena in fall of 2007, and the recently acquired Canton Charge (NBADL) and Cleveland Gladiators (AFL).  Prior to joining the Cavaliers, from 2001-2005, Mr. Hillman was an attorney in the Real Estate Transactions Group at Jaffe, Raitt, Heuer & Weiss, P.C., in Southfield, Michigan, where he counseled clients on all aspects of commercial real estate acquisition, development, leasing, sales, condominium conversions, and entity formation relative to such transactions.
Mr. Hillman is a 1994 Cum Laude graduate of Michigan State University with a degree in broadcast journalism, and a 2001 Cum Laude graduate from the Wayne State University School of Law.  He is the Co-Chair of the Sports Division of the American Bar Association's Forum on Entertainment and Sports, a member of the Sports Lawyers Association, the State Bars of Michigan and Ohio, the Ohio State Bar Association, and serves on the Board of Directors of Center for Families and Children, a non-profit organization providing mental health and other wellness services to northeast Ohio residents.  Mr. Hillman resides in Shaker Heights, Ohio with his wife Meredith, and daughters Caitlin, Morgan and Devin.
Michael Blackstone, Executive Director of Basketball Operations, Cleveland Cavaliers
As Executive Director of Basketball Operations, Mr. Blackstone reports to General Manager Chris Grant and is responsible for managing the negotiation and filing of player contracts, administration of team's salary cap, directing basketball operations staff and processes, and ensuring continuity of the culture between basketball and business operations.  Prior to joining the Cavaliers, he spent 12 years running his own consulting business and working with SNI, a premier global provider of negotiation, influencing, sales optimization, and conflict resolution consulting and training . In his role as sports practice director, Mr. Blackstone was part of a team that acted as special advisors to some of the most successful teams in the NBA, NFL, and MLB.  In addition, Mr. Blackstone was responsible for the design, development and execution of all SNI's marketing efforts.  He was also a Master Facilitator, known for his engaging and realistic application of sales and negotiation tools that earned him respect from some of the world's most successful organizations. Mr. Blackstone earned his undergraduate degree (B.S.) from Towson University, majoring in Business Administration.  He also received his M.B.A from the University of Baltimore where he was inducted into both management and marketing honors societies.  One of his passions is working with the Believe in Tomorrow foundation, an organization that provides exceptional hospital and retreat housing services to critically ill children and their families.
Mark M. Termini, Mark Termini Associates Inc – President – NBA Agent
Attorney and Sports Agent Mark M. Termini has represented NBA players for over 25 years, including Cleveland Cavs players from Ron Harper, Jimmy Jackson, and Earl Boykins to Flip Murray, Devin Brown, and Damon Jones.
Mark founded his agency Mark Termini Associates Inc in 1986.  He has negotiated over $400,000,000 in pro sports salaries, and he has represented 15 NBA 1st round draft selections.  He served as a member of the Agent Advisory Committee to the National Basketball Players Association for the 1993, 1997, and 2003 NBA Collective Bargaining Negotiations.  MTA INC currently represents over 20 professional players and coaches in the NBA and Europe.  Additionally, Mark now acts as a consultant in various areas of sports law and sports marketing and contributes commentary for television, newspaper, and online sports outlets.  He also lectures on sports business and sports law related topics. Mark personally represents Northeast Ohio product Kosta Koufos of the Denver Nuggets and Earl Boykins of the Houston Rockets.
Mark Termini is a 1978 graduate of Case Western Reserve University and a 1984 Cum Laude graduate of Cleveland-Marshall College of Law.  For his accomplishments as a basketball player, Mr. Termini has been inducted into the Hall of Fame at both Cleveland Holy Name High School (2001) and Case Western Reserve University (1994), where he is still among the all-time leading scorers with over 1,100 career points.
Cost: Free. 4 CLE credits available.