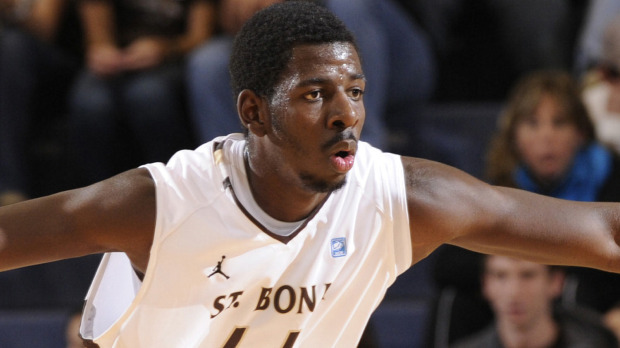 Senior power forward/center Andrew Nicholson is one of the main reasons why St. Bonaventure was so much fun to watch this year.  Point blank, Nicholson put the ball in the basket when he was on the court.  At 6'9, Nicholson is expected to rebound, which he did at a clip of 8.4 rebounds per game.  But he can also shoot the ball.  His field goal percentage this season was 57.1%, and even with his large frame, Nicholson had a 43.4% success rate from three-point range.  If he put up the same numbers at a Big East school, he may be a lottery pick.  That said, it is very likely that Nicholson is found on an NBA team's roster next season.
Earlier today, I wrote that Miles Plumlee signed with Mark Bartelstein of Priority Sports & Entertainment.  According to Andrew Nicholson's Twitter account, he is joining Plumlee as new Priority Sports clients.
Nicholson led the Atlantic 10 Conference in scoring and put up 20 points in a valiant effort against Florida State University in the 2012 NCAA Tournament.  His team came up just short of winning, but Nicholson made a name for himself and for the Bonnies.  DraftExpress.com currently projects Nicholson as the last pick of the first round in the 2012 NBA Draft.